Solihull College & University Centre is adding a new string to its bow by introducing Music Production to its suite of courses for school leavers. With the course set to start in September 2023, the College is now welcoming applications.
The 2-year, Level 3 course will cover various aspects of music production and prepare students for a career in the industry. Areas studied include composition, sound design, sound recording, sound engineering, synthesis, sampling, sequencing, the music industry and music theory.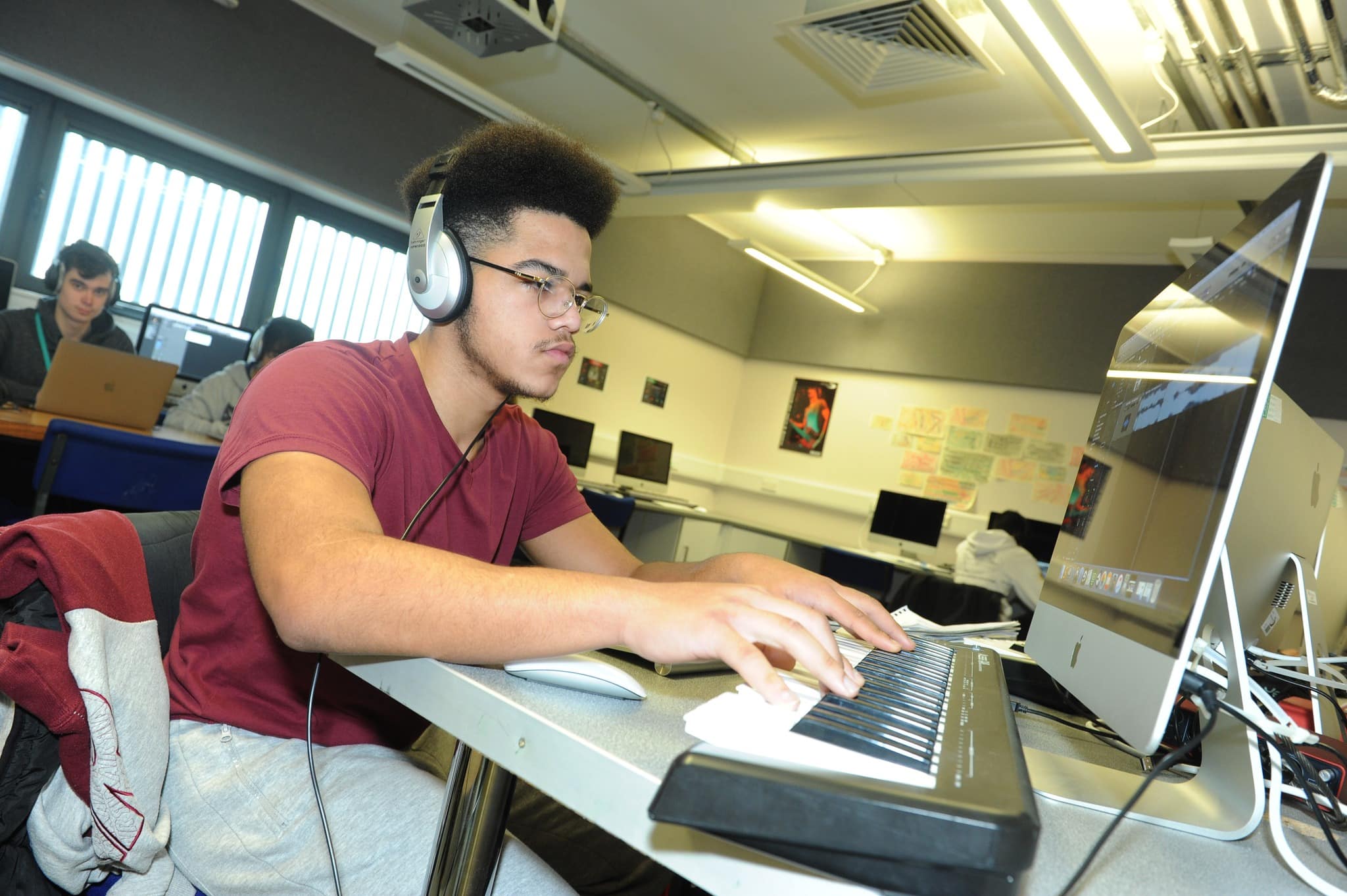 The course will be delivered in industry-standard spaces at Blossomfield Campus
Music Lecturer, Stephen Birkett explains: "My aim with this course is to establish students as professionals and get them into industry. We will provide students with innovative ways through which they can showcase their creativity and talent, for example, helping them set up their own YouTube channel producing content that captures their journey as they develop their skills."
Stephen currently lectures on the Music Performance and Production course at Solihull's partner, Stratford-upon-Avon College. As well as holding a first-class honours degree in Music Performance and Production, Stephen is a vocalist, guitarist, and multi-instrumentalist with extensive experience in the music industry producing bands, working on both small and big scale festivals, and composing music and soundscapes for films and plays.
Stephen values individuality within his own Music career and encourages his students to explore their interests and break boundaries. His inspiration for music came at a very young age, sitting in on his father's lessons and watching him teach Music to students from many different backgrounds as he supported them no matter what their music style. Stephen teaches with the same passion as his father, going the extra mile to help students achieve their goals.
Students will develop their skills in a range of areas to prepare them for the Music industry
The course is made up of 13 units and students will have weekly classes in industry standard spaces, with access to a professional Mac Suites, creative software, studios, and live performance venues. The course is largely practical focussed, with submission of coursework designed to examine the Research, Production Planning and Evaluation and Reflections students have carried out for the completion of their units.
Students will be expected to complete projects, designed to broaden their skills and confidence whilst challenging them in a fun atmosphere. Project areas include: Loop Beat Creation, Sampling & Synthesis, Sound for Film & Game, Studio Recording, and Music Tech For Live.
Upon completion of the course, students can progress on to a higher education course in Music at university or music college or head straight into industry.