A former Aerospace Engineering student from Solihull College & University Centre has returned as a lecturer following a successful career in industry.
Jaz Singh Flora, 27, progressed from level 3 all the way up to university level, graduating with a BSc in Aircraft Maintenance at the College. He then went on to secure impressive roles as an Aircraft Mechanic and End of Line Operator at distinguished aerospace and aircraft companies such as Patriot Aviation and Meggitt.
Jaz shares: "The opportunities and support I received at the College allowed me to reach my potential. I was encouraged and empowered through my relationship with the lecturers but also having exposure to employees from notable organisations like Rolls-Royce."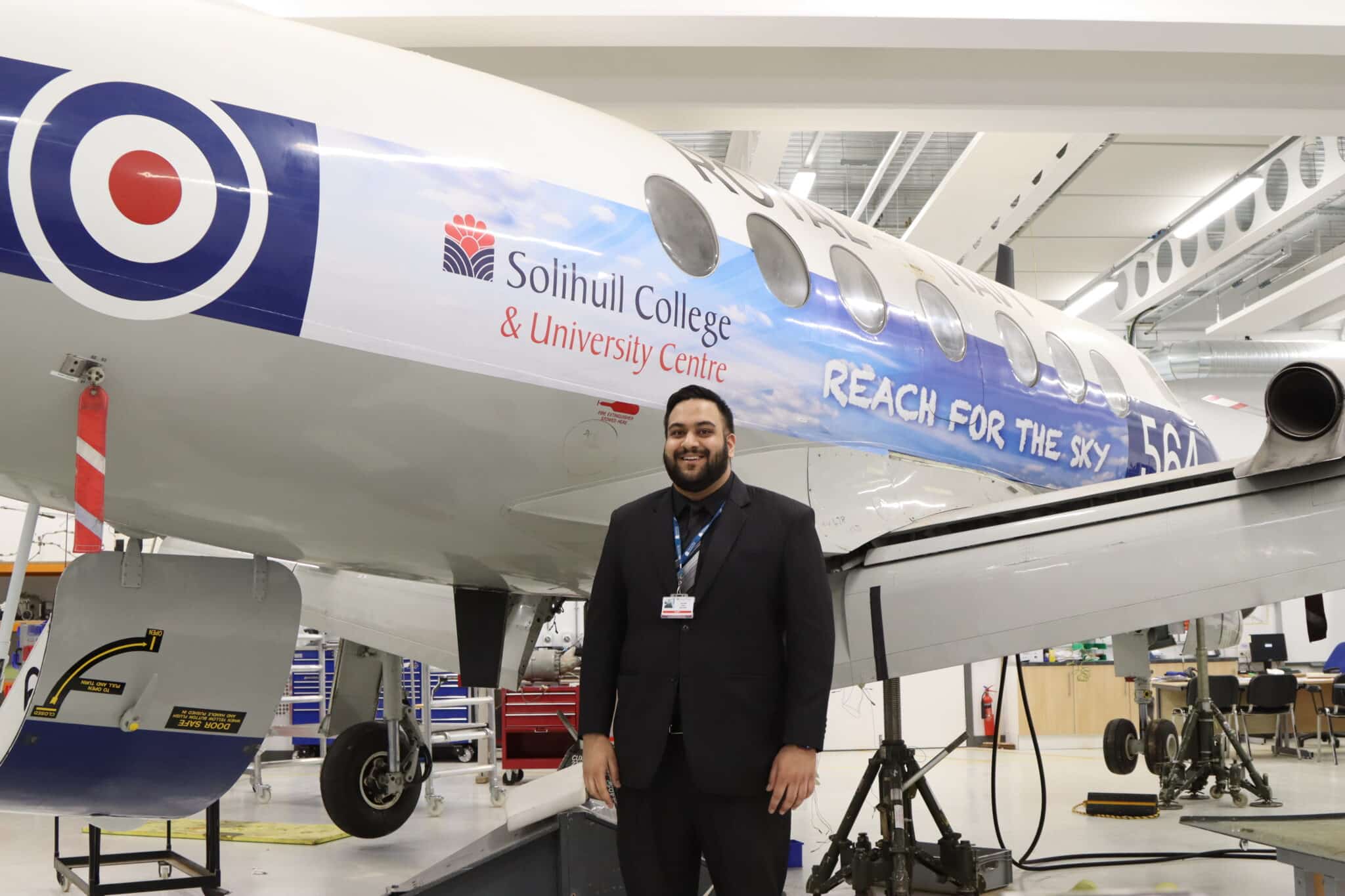 Jaz has worked with leading companies in the aerospace industry such as Rolls-Royce
During Jaz's time at the College, a former student and Rolls-Royce employee came in to spend a day with Aerospace Engineering students. Jaz delivered a presentation to his class on the day and impressed the visitor from Rolls-Royce so much that he offered Jaz work experience with the opportunity to shadow him at their Derby base.
Having an unquenchable thirst for education and a strong resolve to achieve, Jaz turned the challenging time during the Covid-19 pandemic into another learning opportunity. He enrolled onto a Master's degree in Aerospace Engineering at Coventry University.
"After spending the first couple of months in lockdown fixing things around the house, I decided I needed to use my time more effectively. My parents supported me in this decision, and I spent the next two years studying part-time and developing myself." Jaz explains.
Upon graduating, Jaz got in touch with the College, keen to work at the place he credits for his successes. Head of School for Engineering, Ahmed Hussain, was delighted to receive Jaz's CV and the entire department gave glowing references about the dedicated former student.
Jaz credits the College for the many opportunities and support he has had
Today, Jaz inspires Engineering students at the College, as he embraces this role reversal and gives back the same support and devotion his lecturers once offered him.
Jaz says: "I motivate my students through my experiences and stories as I was in their shoes not very long ago and can communicate with them on their level. The late principal, John Callaghan, knew me well and would always make time to talk to me whenever he saw me. It's this empowering culture that has drawn me back here."
As a student, Jaz involved himself in all facets of the College function by becoming a student rep and then HE Governor. This zeal continues in Jaz's teaching role where he admittedly still feels it strange referring to his former lecturers, now colleagues, by their first names.