University level Art & Design students from Solihull College & University Centre have launched an exhibition and conference to display their work in progress.
Titled 'Praxis', the exhibition aims to encourage student collaboration, giving them the opportunity to develop the skills necessary to stage a professional event.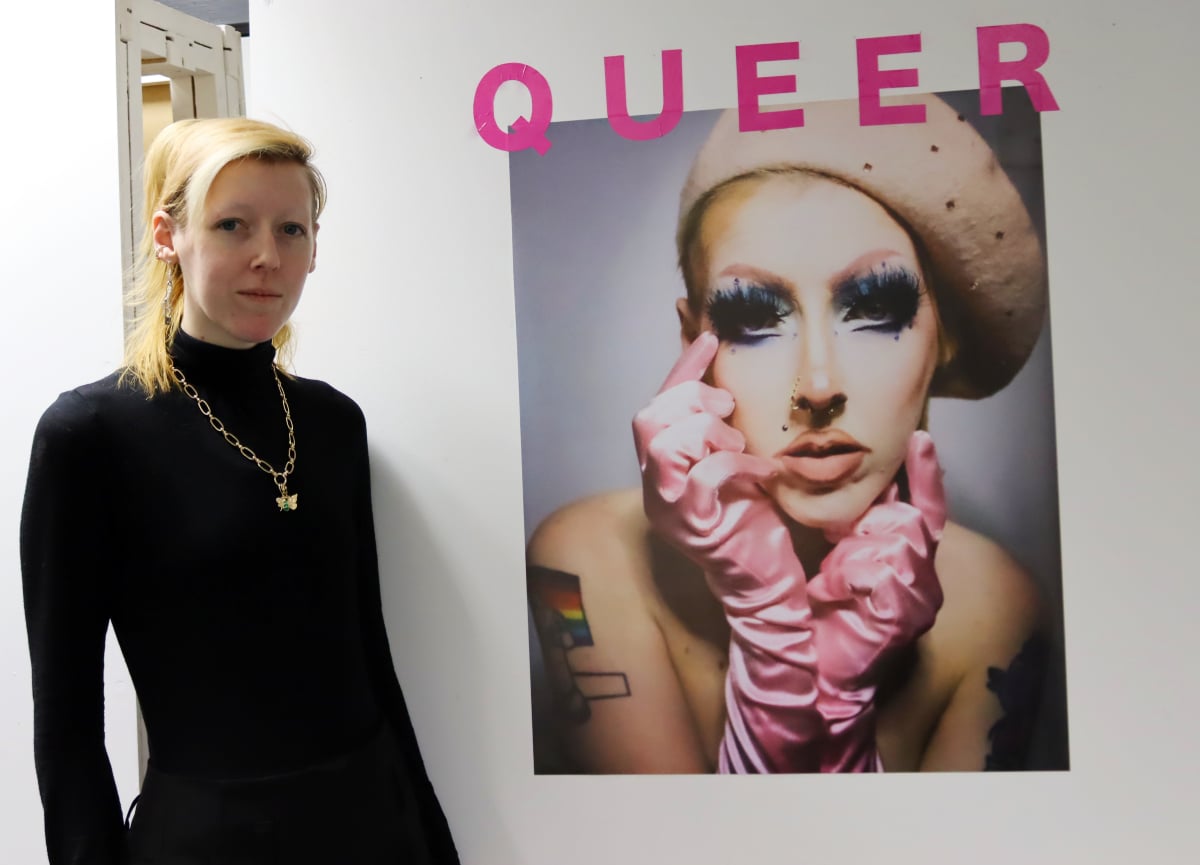 Avery Thomas is studying Level 6 BA (Hons) Creative Arts & Design Practice
Organised by students studying on the BA (Hons) Creative Arts & Design Practice (Oxford Brookes) degree, Praxis features their work alongside the work of students studying on the BA (Hons) Professional Creative Practice (University of Northampton) course and students on the UAL Foundation Art & Design course.
Art student, Avery Thomas, explored the concept of masculinity: "My practice is about looking at how men are scrutinised for showing femininity and the performative aspect of masculinity. I draw upon my own experiences as a trans man who displays femininity."
The exhibition, which launched with a private viewing to family & friends last week, will give students the professional project management and presentation skills necessary to stage an event of this type. The experience will also be a useful reflective tool enabling them to better plan for and exhibit their work in the external degree show when they graduate in the summer.
Student Ishmael Ali explains: "My work is inspired by Andy Warhol, and I wanted to capture my audience with something entertaining to watch so I created a 'Mundane Walk in the Park'. This is the first time I have ever organised and been involved in an exhibition, and I have enjoyed collaborating with other students and feel I have gained a lot of confidence."
Left to right: Aidan Pender, exhibition launch, Ussud Ali, Tommy Reade, Avery Thomas, Sammy Ha, Bilal Raja, Joanna Marek
Alongside the exhibition, students organised a conference which featured speakers from the College's University teaching department, external creative professionals, and students who discussed their own creative process within their practice.
Programme Manager and Lecturer for Creative Arts, Steve Riley, commented: "We are immensely proud of the work that the students have done at this mid-point of their courses. Praxis is an exciting opportunity for them to work collaboratively and present themselves professionally. Creative work needs an audience and part of the process of any creative is to learn how to present themselves to the world at large. The work is very diverse, coming from multi-disciplinary courses featuring photographic, graphic design, illustration, film, sculpture, installation and fine artwork."
Left to right: Jade Baker, Izzy Cuin, Hannah Dodwell, Ash Downes, Adam Wakefield, Aidan Pender