A Painting and Decorating student from Solihull College & University Centre has painted a stunning mural featuring the union flag on her classroom wall to celebrate and promote British Values.
Laura Hart decided to change her career after working at a factory for six years. The thirty-year-old, mum of one, took the leap and came to the College to study Painting and Decorating. She comments: "After having a child, I realised that I didn't want to work in a factory for the rest of my life. I wanted a better future for myself and my daughter. I came to study at the College because I had always been good at art and thought this course would be ideal for me."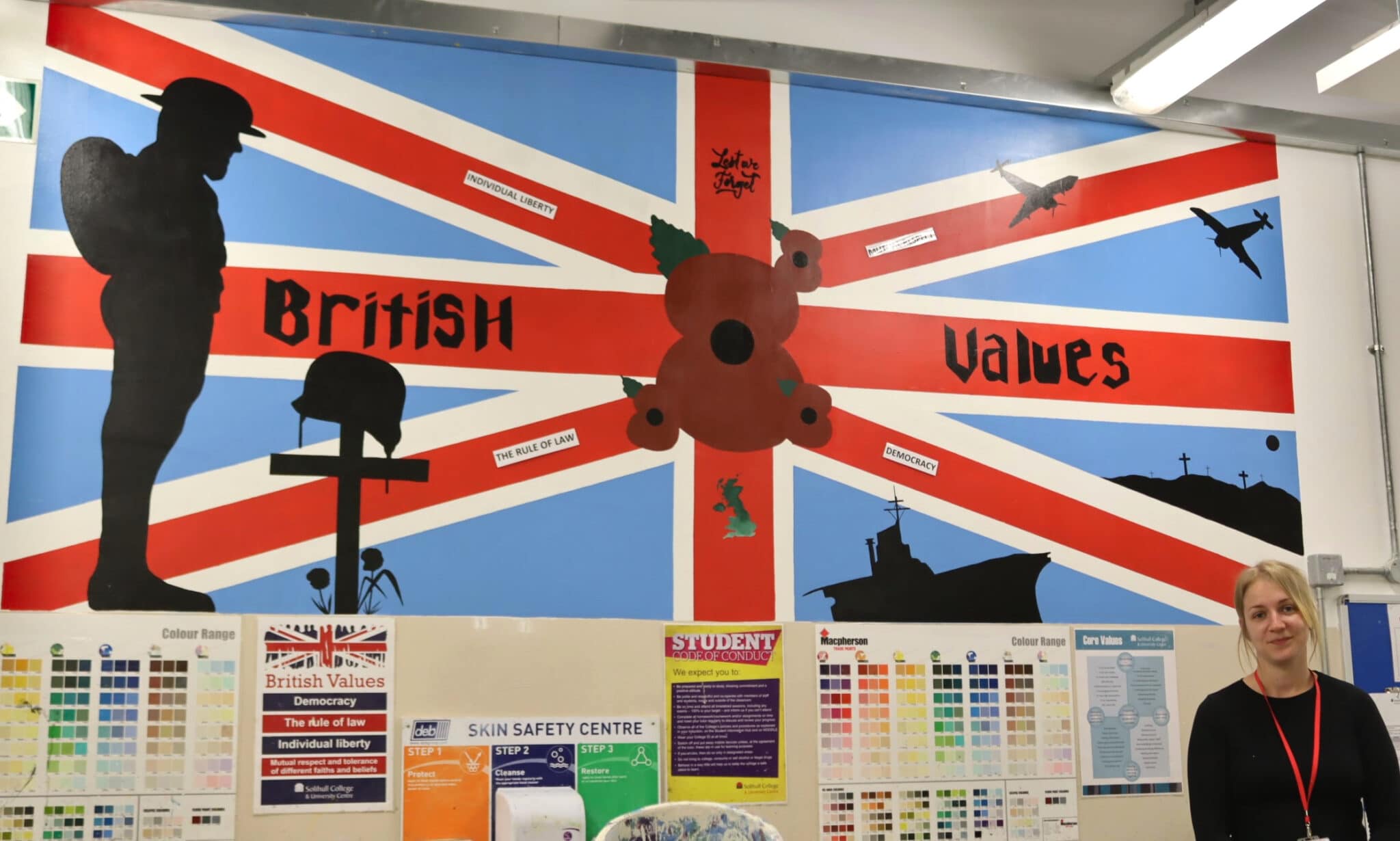 Laura Hart's return to education as a mature student in a male-dominated field has been a huge success
Within a month of studying at the College, Laura's tutors were so impressed by her dedication and talent that they offered her an Assistant Technician role. She says: "I wasn't expecting it at all, and it's really changed things for me. I love working here and I had never thought that teaching would be for me, but it is something that I'm now seriously considering as a career."
Laura first drew a mural of colourful wings on the wall outside the workshop that got the Construction team talking. It was after this that tutor Sean Treacy and Technician Dave Scarsbrook asked Laura if she could draw the union flag on a large wall in the classroom to commemorate British Values.
Explaining how it came to be, Laura says: "It was so nice to be asked and trusted to do something so big and I had to really plan and work out how I was going to do it as the scale of the wall made it a bit challenging. Once I drew the flag, members of staff came to have a look and gave some suggestions of what I could add. I had conversations with students and my tutors, and it slowly developed over a period of two months."
Staff have been blown away by Laura's talent and dedication
Personal Tutor for Construction, Phil Mann, comments: "I am blown away with the talent shown by Laura and her powerful piece inspired by British Values with a salute to the Armed Forces."
Initially, Laura was reluctant to return to education as a mature student, worried about being the eldest in her group. She shares: "It turns out I had nothing to be worried about. I love being the Mum of the group and the students like to show me what they've done. The tutors are so understanding as well, it's a great work environment to be in."
Now complete, the mural overlooks the Painting and Decorating workshop which highlights the fundamental elements of British Values: Individual Liberty, Mutual Respect, The Rule of Law, and Democracy.