A Computer Aided Design tutor from Solihull College & University Centre has been featured in the Sky at Night magazine and recognised by NASA for his 3D printed model of the Orion Crew Module.
Tutor Mark Piatowski created the model ahead of NASA's 2024 Artemis III moon mission. It started back in April 2020 when he was working on ways to show his CAD students progression paths and highlight possible areas of employment. In order to do this, space enthusiast Mark started looking for a 3D model of NASA's Artemis Rocket, the SLS. With no luck, he took matters into his own hands and started work on a CAD model of the Orion Crew Module using NASA photographs and illustrations.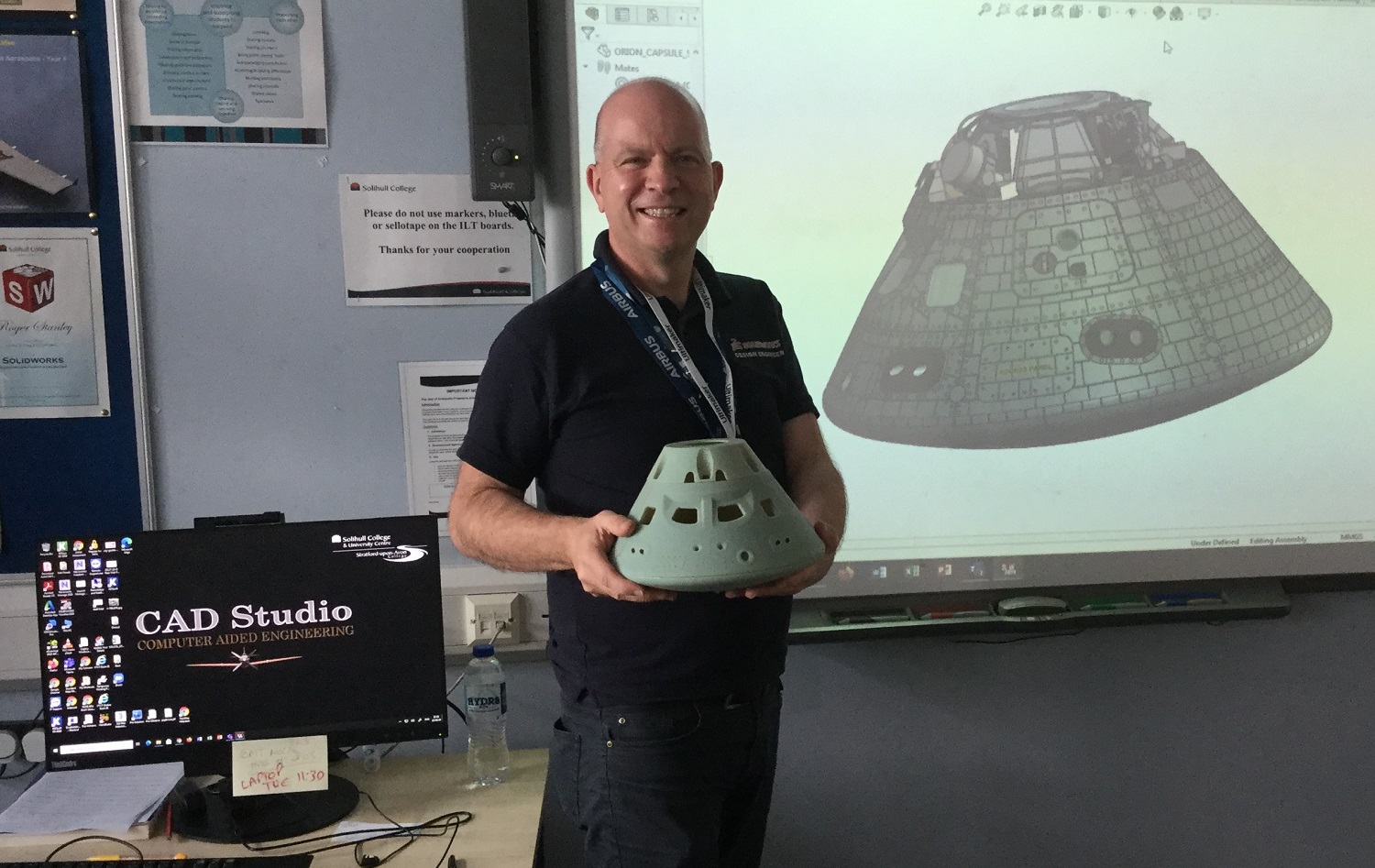 Mark comments: "There was a point that I realised it might be something worth sharing with other educators, space enthusiasts or people who own their own 3D printing machine. I had already joined an online CAD community and had used it as a way to obtain models from around the world. I could reverse engineer these into student projects and at long last I felt I could contribute back to the world community."
After uploading the files, Mark decided to inform NASA and he was overwhelmed with the positive response. He received a message back from NASA's Orion Facebook page informing him they would like to share it. Many influential figures within NASA 'liked' the post including ex-program manager for Orion, now NASA's Acting Deputy Associate Administrator for Advanced Exploration Systems, Mark Kirasich, and the Program Planner on the Orion Spacecraft, Barry Bonzack.
Mark then messaged the Sky at Night Magazine and was delighted to be featured in the January edition.
Mark's dynamic thinking is also reflected in his teaching. He comments: "I had a tough time learning myself. Things didn't come naturally to me, therefore I have always strived to make my subject relevant and current to the students I teach. I have drawn much creativity from learning what students are invested in, trying to keep the subject fresh and giving the students a sense of accomplishment and self-pride. Over the past 10 years, I have built a back catalogue of on-line learning materials, keeping the subject matter relevant to the interests of the students, colourful, dynamic, and easy to learn!"
The College will be holding school leaver Virtual Open Events in March including a session about the Computer Aided Design course. Register online now!
Check our Mark's video below of the story so far of creating the 3D printed model of the Orion Crew Module.