Cameron O'Connell, an Apprentice at Solihull College & University Centre is celebrating winning 'Apprentice of the Year' at the RailStaff Awards.
27 year-old Cameron from Druids Heath, was forced to quit his position as a Military Signaller in the British Army in 2015 following a serious injury to his back. He began looking online for career options once he returned. Cameron's brother had embarked on an apprenticeship with Solihull College and this inspired Cameron to look into one for himself. He began an apprenticeship with infrastructure service provider Amey in Birmingham as an electrification and plant (E&P) engineer.
Cameron's hunger to learn and push himself set him apart from his peers. Starting with no qualifications, he completed a BTEC, then in his second year a Higher National Certificate and is now undertaking a foundation degree, all in electrical engineering.
Cameron has shown excellent technical skills, passion and innovation while helping deliver a better service for passengers through his work on the East Midlands area and West Hampstead signalling power upgrade projects.
Cameron successfully took a lead role in managing surveys on site and was in charge of the Amey Consulting Rail (Birmingham) close calls register – an important tool for reporting which contributes to the reduction of risks or hazards. Cameron's former mentor Abdul Rehman Savant, a senior E&P engineer at Amey, nominated him for the award.
Cameron, who now works for consultancy TSP Projects as an assistant electrical engineer, stated: "I didn't do as well at school as I'd have liked. The apprenticeship gave me a second chance, the course content helped so much and I applied what we'd studied to day to day life".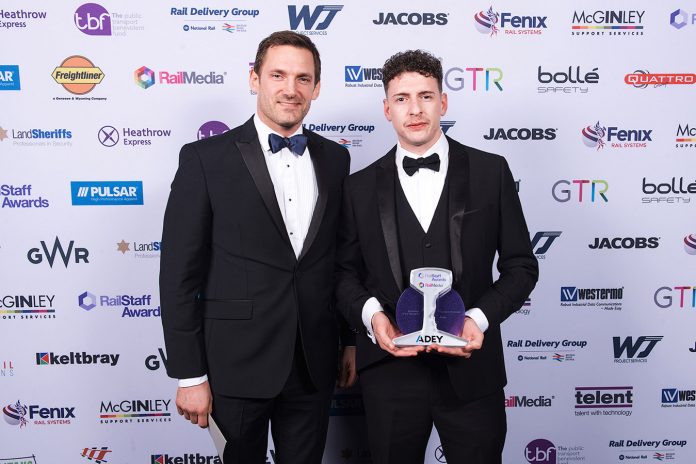 Andrew Adey, Adey Steel Group managing director, who presented the award said: "There were a number of worthy finalists but what's exceptional about Cameron's story is how well he has adapted to a professional career after a challenging period of military service. I'm very impressed with the immediate impact he has made and his career trajectory looks to be an exciting one. There's no stopping him at the minute."
The RailStaff Awards, now in their 12th year, were held on November 29 at Birmingham's NEC to celebrate the achievements of individuals and teams who work in the rail sector. The ceremony shows appreciation for the people who deliver the railway – from drivers to cleaners, and engineers to station staff. Often these are stories of lives saved, careers turned around and adversity conquered.
Tom O'Connor, managing director of event organiser Rail Media, said: "The RailStaff Awards is not only our biggest night of the year, it's also our favourite, a spectacle with no shortage of inspiring characters."
For Cameron the future certainly looks bright, "I want to keep going all the way to the top. I hope to be the CEO of a major company one day".