A HND Computing student from Solihull College & University Centre is on track to launching a career in cyber security thanks to her career-focused course.
Chloe Caine, 19 from Solihull, first came to the College as a Computing & Emerging Technologies student after finishing school. She explains: "I knew I didn't want to go to a large university and wanted to take a more practical route into my career. After deliberating for a while, I decided that the best option was in fact the HND Computing course at the College; it fit in with all my needs and its HTQ status added more value to the qualification. I'm loving my experience here and can say with absolute certainty that I made the best decision."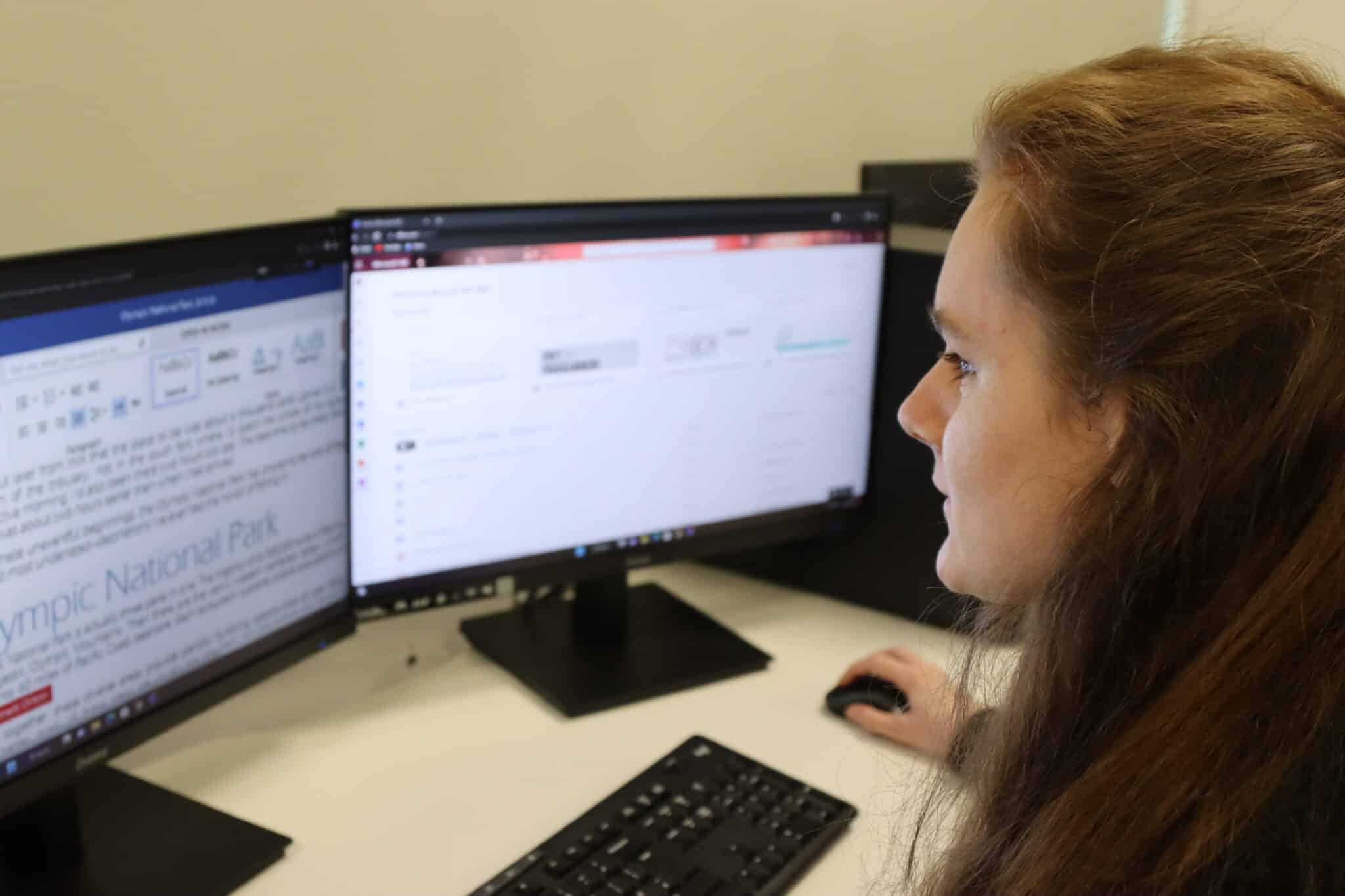 Chloe's reasons for choosing the College over a large university include the lower costs, support and guidance from lecturers, and the smaller class sizes. She says: "Coming to the College has been so much more cost effective for me than for my friends who have gone to university. I've also got a personal one-to-one relationship with my lecturers and feel so comfortable around them, they're always available for you. Our group has a strong bond, and we are also always there to support each other."
The HND Computing course specialises in cyber security and boasts Higher Technical Qualification (HTQ) status. The status is based on employer-led standards ensuring that the course is designed to cater to employer needs. This is established by fostering strong partnerships with employers and encouraging continuous engagement to provide students with the necessary exposure to the industry.
Chloe speaks highly of the industry professionals she has met recently through the course: "Meeting experts in cyber security has been a highlight for me. It has opened my eyes to the real world. I was particularly impressed with Vanessa Eyles, the Detective Superintendent in West Midlands Police who is also the Director of The Cyber Resilience Centre. She shared valuable insights from her wide range of experiences related to cyber security in the force."
In addition to Vanessa's visit, students have had bespoke industry sessions from Fahwad Mahmood of BT Group, Chris Brown of West Midlands Police Cyber Crime Unit, Peter Cripps of Digital Innovators and IBM, Josh Elder and Dan Miller of Young Professionals, and Dylan Aupetit of World Wide Technology. Students have also attended cyber security conferences and exhibitions at notable locations such as the NEC, National Cyber Security Centre, and Millennium Point.
These unique experiences, delivered in line with the HTQ standard, are establishing students such as Chloe as the future of the cyber security industry. Computing Lecturer, Gary Rhodes states: "Chloe raises the standard of the whole group, always sets the target of distinction and is enroute to achieving a distinction in all modules. Her work is consistently of an outstanding level and with her motivation and determination she will reach her career goals. The career in cyber security she is aiming for will see her as a professional defending and preventing businesses against cyber-attacks and training organisations to protect themselves. She will be a strong asset to any organisation."
HND Computing has enabled Chloe to become well-versed in the use of Python, HTML and CSS and she and her peers have a strong understanding of why certain professionals and organisations use a specific programming method. Chloe and her peers have two full days of lectures in the College, leaving three days of independent study in the College's designated University Centre and time to gain work experience.
Upon gaining her HND, Chloe intends to dive straight into employment and is looking forward to starting her career in cyber security.