A Solihull College & University Centre alumna was delighted to win Trainee of the Year at the National Builders Merchant Awards recently.
Danielle Jones, 24 from Cannock, joined EH Smith Builders Merchants as part of their Sales Trainee programme in 2017 after completing a degree in Media & Communications. Solihull College & University Centre works closely with EH Smith to provide an apprenticeship course which runs alongside the student's full-time work. After her apprenticeship scheme Danielle will qualify with an ISMM certificate in Sales & Marketing and Level 2 in Customer Service.
Danielle attends college once a month with other colleagues of EH Smith who were undertaking the course, she commented "I found the apprenticeship very enjoyable, it gave me the opportunity to learn as well as integrate with other trainees across the business. We received great support from the college and from my employer. With the knowledge gained from my college course coupled with my experience in dealing with customers day-to-day, I now feel more confident in my role and I am really excited about my future."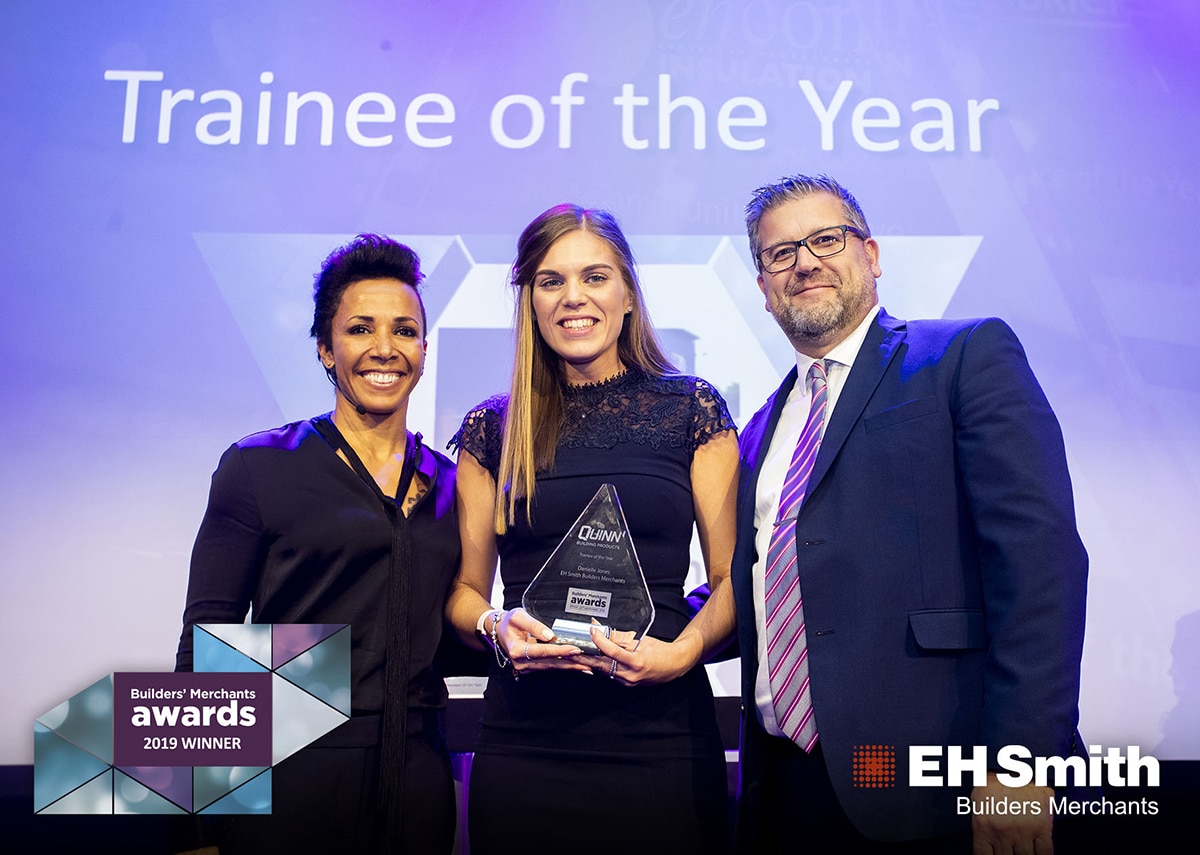 Danielle was nominated for the Builders Merchants Federation Trainee of the Year award due to her hard work and determination – in the workplace and during her college course.
EH Smith, Marketing Director, Mark Mallinder stated: "Danielle has excelled beyond all expectations of a trainee. She has set herself apart by spotting opportunities and stimulating change, whilst embracing the training programme. Danielle is a grounded individual who's not scared of hard work to achieve goals; an inspirational, strong female role model to other trainees in the industry. We are very proud of her."
For 18 years the Builders' Merchants Awards have celebrated the best and the brightest in the merchant industry. Nominees from across the industry and across the country were whittled down to just 3 finalists for the Trainee award.
Danielle received a raucous reception from colleagues when she won at the ceremony which took place at The Hilton, Park Lane, London. She was presented her award by retired athlete and gold medallist Dame Kelly Holmes, OBE. "I couldn't stop smiling," she admits: "I wasn't expecting it at all but it felt amazing. If you have the support and the will, you can do anything."