Two Manufacturing Engineering apprentices from Solihull College & University Centre are making a name for themselves at ZF Group – a global technology company and Tier 1 supplier to the automotive industry.
Nathan Hornby and Leighton Matthews, both 19, studied Manufacturing Engineering at the College from Level 1 to Level 3. During their last year, they secured work experience at ZF Group where they impressed staff so much that they were able to further secure themselves an apprenticeship position.
Technical Shared Services Manager, Russell Hines, explains: "These students have gone to college, impressed their lecturers, applied and proved themselves, and have now become an essential part of our team where we have a career route mapped out for them leading to the top."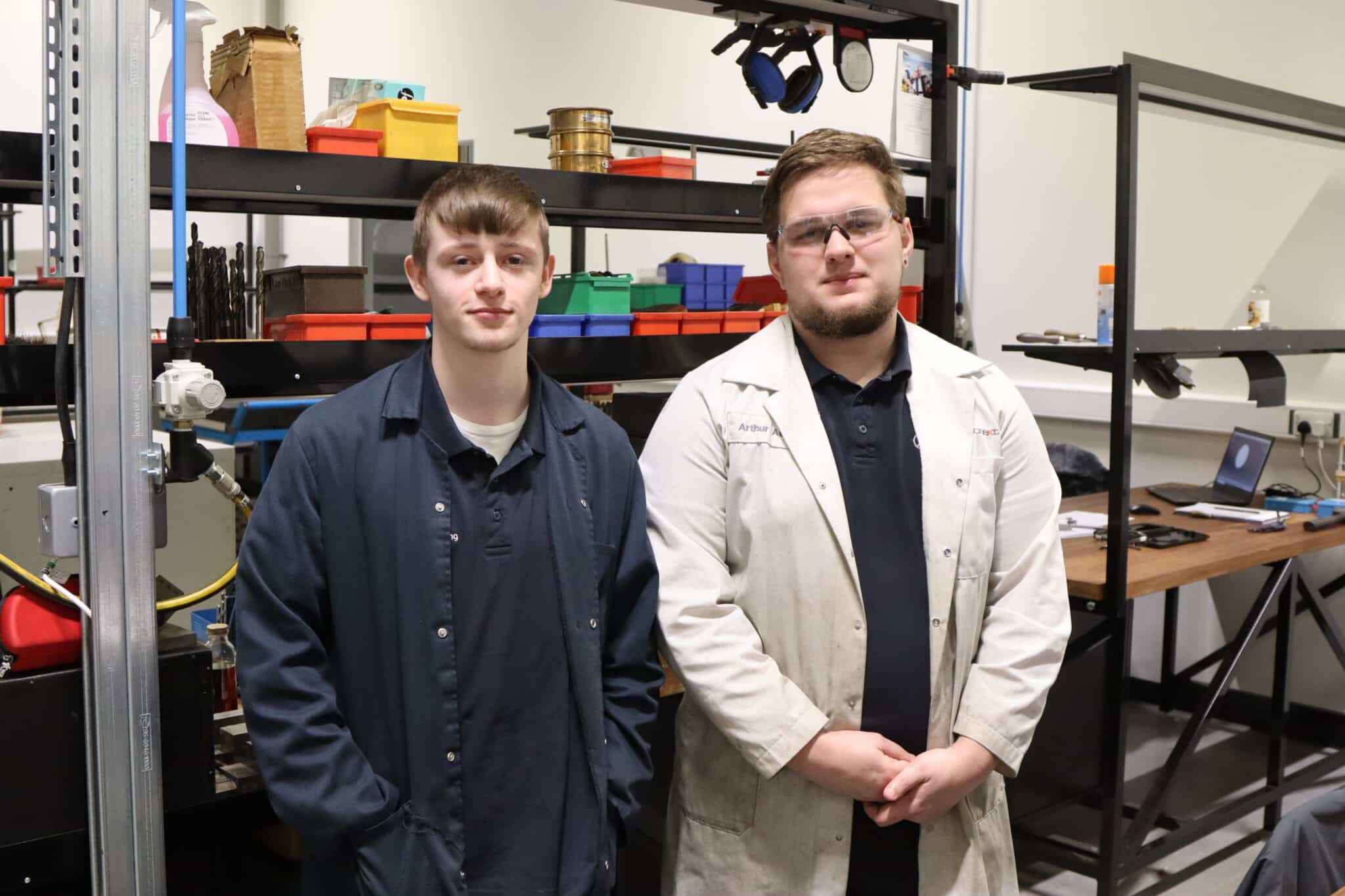 Nathan Hornby (left) and Leighton Matthews (right) are extremely supportive of each other and have been together on their Engineering journey since they started studying at the College
Both budding engineers had their eyes set on the industry from a young age. They worked extremely hard at the College, forging a strong bond with each other which now sees them work collaboratively supporting each other's development.
Leighton shares: "I think it was important that we started at Level 1 because we learnt the basics before we jumped onto the big machines. This grounding has proved successful for us. We're now valued members of the department and as we walk around the building, we recognise fixtures we've built."
The list of skills the apprentices have already accumulated is extensive – from soft skills such as teamwork, communication, and negotiation to the technical elements of using CAD, spark eroders, lathes, millers and grinders. They work in the Technical Shared Services department which allows them access to almost every other department in the organisation, providing Nathan and Leighton with a heightened level of exposure to learning.
Principal Prototype Engineer at ZF Group, Rob Boswell, says: "I began my career as an apprentice and recognise the value of them. It's a route that produces highly skilled engineers. These apprentices are already streets ahead of their peers because of the skills they are developing daily here. It's a big opportunity and the main difference between the apprentices and students completing a university degree is that Nathan and Leighton know exactly what their career is and are already living it."
Rob Boswell and Russel Hines of the Technical Shared Services Team at ZF Group have been highly impressed by the two apprentices and are keen to strengthen their partnership with the College
The ZF Group supplies systems for passenger cars, commercial vehicles, and industrial technology, enabling the next generation of mobility. With its products and software solutions for established vehicle manufacturers and newly emerging transport and mobility service providers, the company contributes to reducing emissions, protecting the climate and enhancing safe mobility. This broad commitment can also be seen in action at the building which the apprentices work, with systems in place to measure airflow, manage heating, cooling and power consumption and keep the CO2 footprint small, not only in the workshops and offices but even the canteen.
Nathan comments: "It's a professional environment here where we're learning from experts such as Rob who have been in the industry for 35 years and more. We're encouraged to be better every day and given the support and patience to learn and figure things out for ourselves."
Rob demands a high level from the apprentices as he aims to mould them into industry experts so they can in turn be an inspiration for a new generation of engineers: "I see Nathan and Leighton as trailblazers, waving the flag for the College, and lighting the path for future engineers which the industry is in need of."