Three trailblazing students from Solihull College & University Centre have been recruited as Commissioners for Leaders Unlocked (LU).
Students De'Andre Morris (Student Rep), Triniti Gittens (Vice President & BAME Officer), and Sasha Georgieva (Student Voice President) have received skills training following their appointment as commissioners and have attended sessions locally and in London, collaborating with peers from other leading colleges across the country.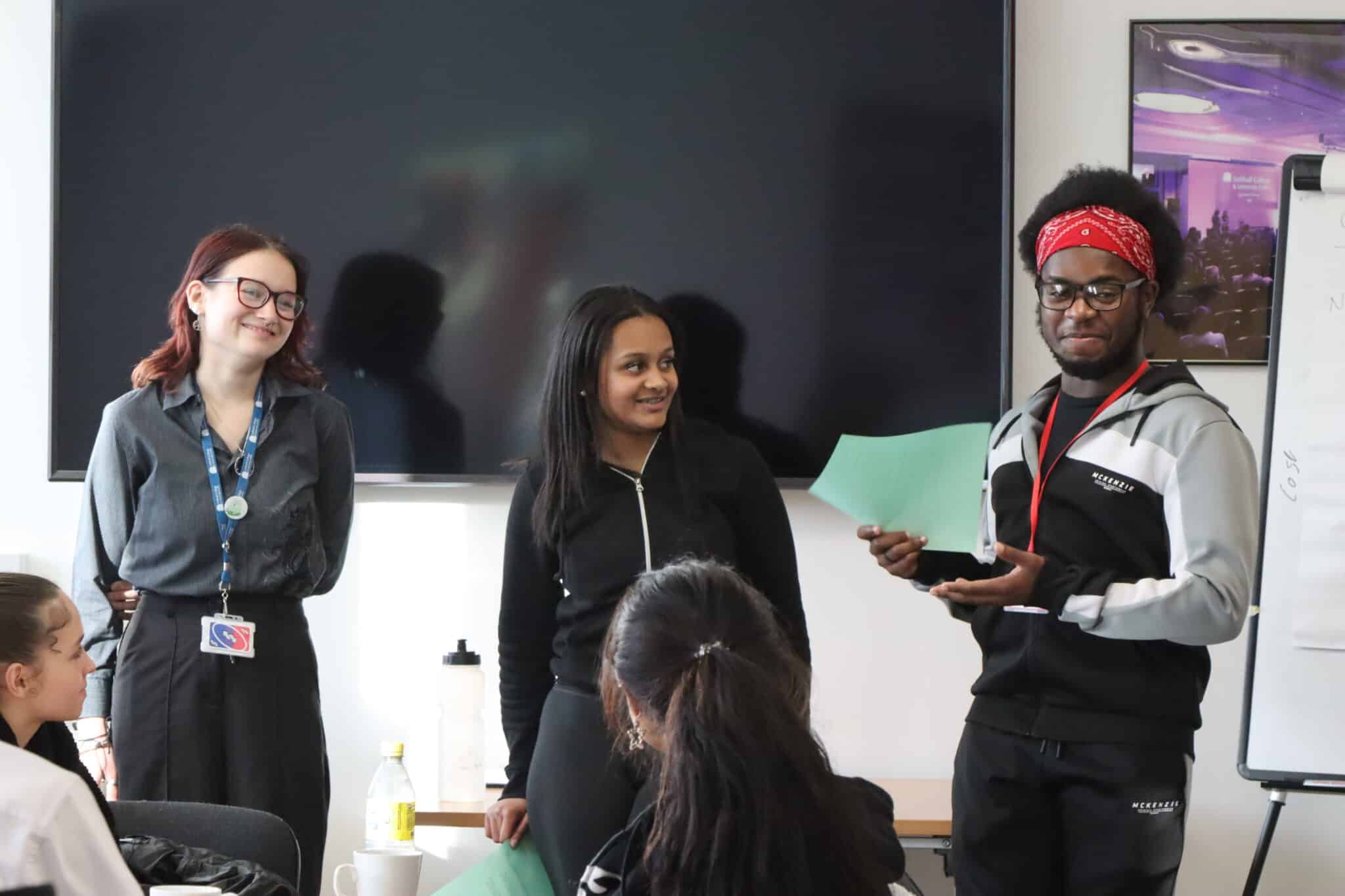 Sasha Georgieva, Triniti Gittens, and De'Andre Morris (L to R) are appointed Student Commissioners for Leaders Unlocked
LU is an award-winning social enterprise focused on working with organisations to ensure they include and platform young people from underrepresented groups in their operational decision making, thus enabling them to have a say on issues that affect their lives.
The College collaborated with LU earlier in the academic year, with the Student Enrichment Team receiving training following which they were able to deliver workshops and gather data on student experiences.
De'Andre and Triniti have spoken at the Association of Colleges Conference where they shared good practice and highlighted the importance of having students involved in a range of projects. The commissioners have also held a Senior Leadership Team (SLT) Summit at the College with LU's Project Coordinator, Megan Briggs. They facilitated the session in which SLT and Student Reps discussed the outcome of surveys gathered by the Student Enrichment Team. It was an energetic session where staff and students put together an action plan and worked on finding solutions to reach the common goal of racial justice.
Student EDI & Enrichment Manager, Grace Wynne Willson, explains: "We deliver a high-quality enrichment programme in which students can develop as individuals and reach their potential. We are constantly looking out for new opportunities for our students to channel their energy and desire to seek out social justice in all aspects of their lives. LU has offered our students that opportunity and it is rewarding to see the commissioners thrive."
The Student Commissioners led a Senior Leadership Team Summit discussing an action plan for racial justice
The commissioners aim to achieve the following goals during their tenure:
• Deliver a final showcase to key stakeholders of the Student Commission on Racial Justice project they are currently working on.
• Complete a film in collaboration with peers from other leading colleges which will become a vital educational resource available for all staff and students.
• Present the College with a tailored action plan to support their journey of Anti-Racism.
Triniti comments: "It is important that we listen to student voices at the College because our generation is the future, and it is the College's job to prepare us to live in an inclusive society. I am proud to come to a college that is inclusive and provides opportunities for students."