A student from Solihull College & University Centre has been educating others to honour last month's LGBT+ History Month via a series of virtual talks. 
Will Pullen, 21 from North Solihull, is the College's Student Voice President and LGBT+ Officer. He carried out tutorials for fellow students throughout the month defining LGBT and exploring influential figures in history and art.  
Will comments: "The talks I delivered went really well. The level of engagement from staff and students really surprised me as this was my first time presenting. It was a delight to be able to deliver talks that have some significance to us all throughout life."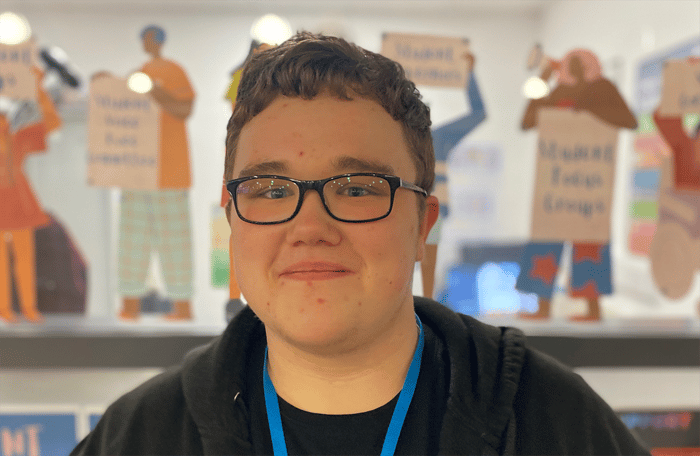 Will took a break from education and worked after he finished school, but he missed being a student and returned to education in 2018 to enrol on a Performing Arts course at the College. 
Will decided to apply for his LGBT+ Officer position in September 2019 as a way to try and increase his self-confidence. He was offered the role and immediately wanted to focus on inclusion and diversity. He reformed the Pride Club, a student-led group which offers advice and support to students who need it. He also began discussing and designing informative leaflets on how to support students. 
Will adds: "My confidence grew enormously with this role. My advice to anyone out there would be listen and never give up. Never see the word failure as something negative in life, see it as a first attempt at learning."  
In this year's LGBT+ History Month the College has been proud to receive the student voice section of the Rainbow Flag award – a project Will has been heavily involved in. The national quality assurance framework is for education providers that focus on positive LGBT+ inclusion and visibility. The College hopes to apply for the full award later this year.  
This week the College is holding its student conference 'The Future is Bright 2021' which Will is actively involved in, students can head to the student hub to read more about how you can attend and get involved!
A version of Will's tutorial will be available to college students on the intranet.