Local unemployed people are learning the latest construction skills using virtual reality simulators installed at Solihull College & University Centre, thanks to training funded by the West Midlands Combined Authority (WMCA).
The WMCA has joined forces with Solihull College & University Centre, Birmingham-based RMF Construction Training Academy and education equipment provider Tenstar Simulation to install four simulators at the College in the first training programme of its kind in the region.
The move is one of a number of WMCA initiatives to train local people in the construction skills needed to help the region build its way out of the Covid-19 economic shutdown.
Andy Street, the Mayor of the West Midlands, said: "It's great news that we are able to fund training on construction simulators at Solihull College & University Centre, working in partnership with RMF Construction. "Construction was one of the best performing sectors before the coronavirus outbreak hit, and we know that large infrastructure projects, such as HS2, will be key to our economic recovery. "Training local people to operate modern plant is a crucial part of the advanced construction skills that the industry will need over the coming years. The training we are funding will also help make sure that the jobs being created go to local people."
The WMCA is funding training on the equipment through its Construction Gateway programme, which offers unemployed people free construction training and a guaranteed job interview at the end of the course.
Construction simulators offer a number of benefits and significantly reduce the time needed for training on real machines, meaning the environment will benefit from lower carbon emissions from diesel-powered engines.
The main benefit to local people and the industry is that more learners are able to learn real-life construction skills, gaining a Level 1 qualification, and move on more rapidly to gain Construction Plant Competence Scheme (CPCS) trained operator cards.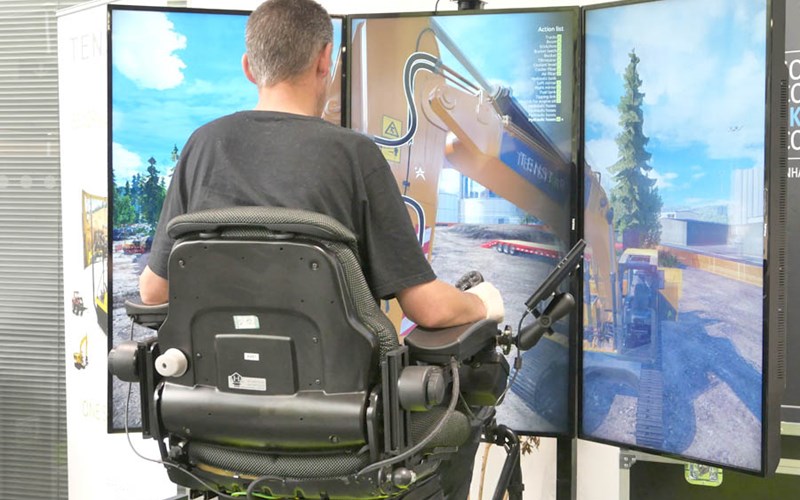 John Callaghan, Principal and CEO of the College, said: "We are delighted to be working with the WMCA and RMF Construction to develop new, innovative ways to address the skills gap in the construction plant sector.
"Learners will be able to build their confidence and competence on a variety of machines in a controlled setting before moving on to real construction plant.
"The simulators will also help to ensure we are Covid-19 compliant and reduce our carbon footprint."
The training is for adults aged 19 and over, particularly unemployed people and ex-offenders.
Up to 50 residents are currently learning on the simulators in a five-week pilot at the college, which plans to incorporate simulated training into its WMCA-funded construction courses from this September.
Cllr George Duggins, WMCA portfolio holder for productivity and skills and leader of Coventry City Council, said: "The Construction Gateway is a great opportunity for unemployed adults, or those on short-hours contracts or low-skilled jobs to improve their skills and gain new qualifications as we recover from the Covid-19 lockdown.
"I'm pleased that this new initiative at Solihull College & University Centre is enabling local people to increase their technological knowledge, with the opportunity to gain new jobs in construction where we know machine operators are still in high demand."
Dara McCarthy, operations manager at RMF Construction Training Academy, said: "Although plant operations in large earth-moving and transportation vehicles will always involve an element of risk, learners have previously only been able to gain skills and competence by working on these machines.
"Simulators are a safe way for students to practise and measure their performance in realistic scenarios, while reducing the impact on the environment and damage and wear to real plant."
Simon Hogg, area sales manager UK at Tenstar Simulation AB, said: "The construction sector is increasingly using more advanced technology, such as GPS systems, in modern plant machinery. Construction simulators mean the industry gains highly skilled plant operators with the skills needed to operate this machinery in the modern construction environment.
"Once users complete the simulated training activity, we are able to produce a report detailing the individual's performance. This allows us to drill down into finer detail, highlighting areas that may require improvement. This feedback engages the learner and ensures a correction can be implemented over a short period of time."
To sign up for construction training, contact the National Careers Service West Midlands on 0121 296 5550, or you can find out more information about the National Careers Service via https://nationalcareersservice.direct.gov.uk/ or by calling 0800 100 900.
Residents can access links to new job opportunities and online adult education training by visiting the WMCA's Covid-19 support site at https://beta.wmca.org.uk/what-we-do/covid-19-support/online-resources/
Click below to watch a video of the Mayor and representatives from the Civil Engineering Contractors Association (CECA) and the Construction Industry Training Board (CITB) welcoming the project.