Beauty Therapy students from Solihull College & University Centre have progressed on to successful careers at Santai Spa, one of Birmingham's most luxurious spa destinations.
Joy Pickett, Hair, Barbering, Beauty & Make Up Coordinator, was recently invited to Santai Spa by her former students as they showed her around their workplace and shared their utmost gratitude for training them and making them the capable and skilled Beauty Therapists that they are today.
Ellie Denton, Supervisor of the Spa, commented: "Joy is an absolutely brilliant teacher, and I wouldn't be the therapist or person that I am without her. I'm very grateful to Joy for everything."
Santai Spa is an award-winning spa at Resorts World Birmingham. Over the past few years, the luxurious spa has recruited many Beauty Therapy students from the College, with eight currently working there.
Joy comments: "I'm just so proud of all of them. They worked so hard and were dedicated, enthusiastic students who always showed up and put in that extra effort to become the exceptional therapists that they all are. I'm glad to have been a part of their journey."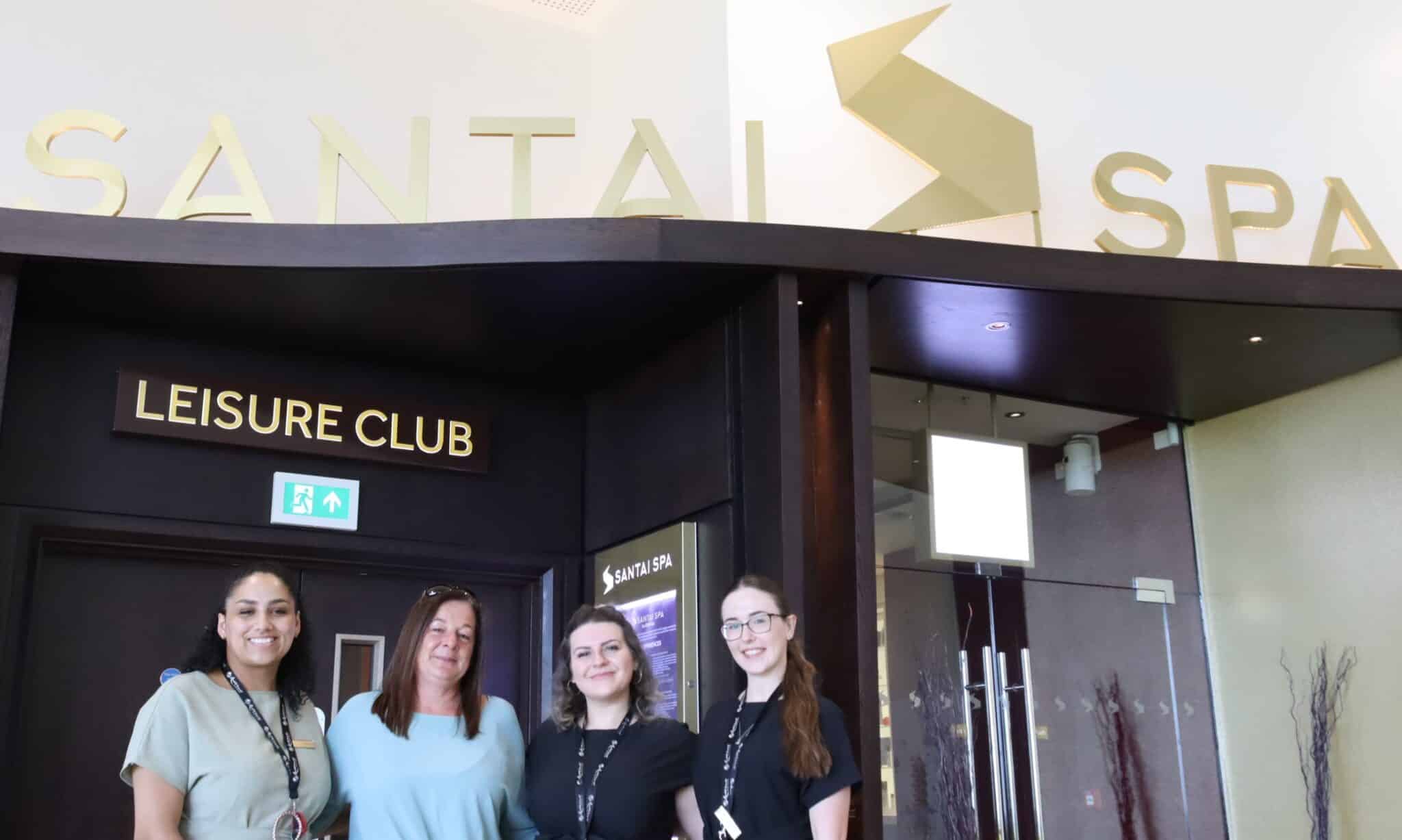 Rhea Daley, 19, started working at Santai Spa as a receptionist in 2021, shortly after completing her course at the College. She was inspired by the Physiology elements of her course and will be going to Coventry University in September to study a degree in Physiotherapy.

"I chose to study at the College as I was impressed by their facilities, it looked like an actual spa. We learnt so much on the course and I was particularly impressed by the different machinery we used for facials.

"I heard about Santai Spa after Joy told us someone she trained is the supervisor there. I applied and was invited for an interview and so many of the employees knew Joy and were former students, so we immediately connected.

"I think it's amazing that almost everyone here has been trained at the College by Joy and it shows how good that course is because everyone is in industry now."
Sian Evans, 26, is an ESPA trainer, head therapist and supervisor at Santai Spa. After completing her course, Sian was offered a role at both Santai Spa and Belfry Spa, she chose Santai Spa.

"I have a full mixture here, I do recruitment, treatment and therapy and I love it. It's a lovely place to work.

"When I was at the College, there was someone on my course who had just got a job at Santai Spa and I spoke to Joy who was always helpful and she encouraged me to apply here too. She actually sent my CV directly to the Spa!

"I'm happy where I am and feel so grateful to Joy for always pushing us all in the right direction."
Ellie Denton, 24, studied at the College from 2015 – 2017 and is supervisor of Santai Spa.

"I always loved beauty in general, but my parents told me there'd never be money in it, so I initially studied Health and Social Care. One day, I tagged along with one of my friends to an open event at the College and spoke to the Beauty Therapy team, saw the facilities, and decided to apply there and then. I can't explain how much I learnt on the course, I loved it.

"I completed my work experience at Bannatyne and was offered a full-time job there after I finished my course. I left Bannatyne and was doing mobile work for a little while when I reconnected with a former student and friend who worked at Santai Spa, she said they needed therapists. I came for an interview and got hired straight away.

"Something I carry with me always is Joy's voice, 'you need to be grounded'. If I ever go into a treatment feeling negative, I remind myself of what Joy always taught us, 'You pass your mood onto your clients' and that immediately helps me."