A Business student from Solihull College & University Centre has been offered a place at several universities to study Law.
Akram Ali Afsar, 18 from Birmingham, chose to study Business at the College after attending an open event in which he explored the campus and was impressed by the facilities and atmosphere.
During his time at the College, Akram has proved to be an exemplary student from receiving a distinction in his first year, and currently on track for another, to advocating on behalf of students in his role as Disabled Students' Officer.
He explains: "I was always interested in helping people and want to always do my part for society. The first role I got in the College was as Student Representative which meant I represented my group. Then I found the Student Executive Committee (the exec), and I ran for the role of Disabled Students' Officer because I knew I wanted to make a difference for the community that I belong to."
In 2021, the exec ran their annual student conference which Akram named 'The Future Is Bright'. He also delivered a workshop on 'Hidden Disabilities' in partnership with other members of the exec. He comments: "I wanted to lighten up our conference in face of the dark times we were all in during the pandemic and I felt 'The Future Is Bright' did that. I enjoyed doing different things to raise awareness for the disabled community and working on projects together with the exec."
Studying Business at the College gave Akram the guidance and understanding he needed to recognise his ideal career path. He shares: "I chose Business because I enjoyed it at school but then at the College, I realised I really enjoy the law units and learning about the justice system and how that complements my interest in politics. I became inspired to study law and my dream career is now to become a lawyer. I want to help people get the justice they deserve."
Akram has impressed the staff members at the College with his hard work and dedication to everything he has been involved in. Student EDI and Enrichment Coordinator, Grace Wynne Willson comments: "It has been an absolute pleasure to work with Akram over the last 2 years in his role as Disabled Students' Officer and to witness the great impact he has made in the College. Akram's enthusiasm to get involved in every aspect of the role and work with everyone has been inspiring to watch."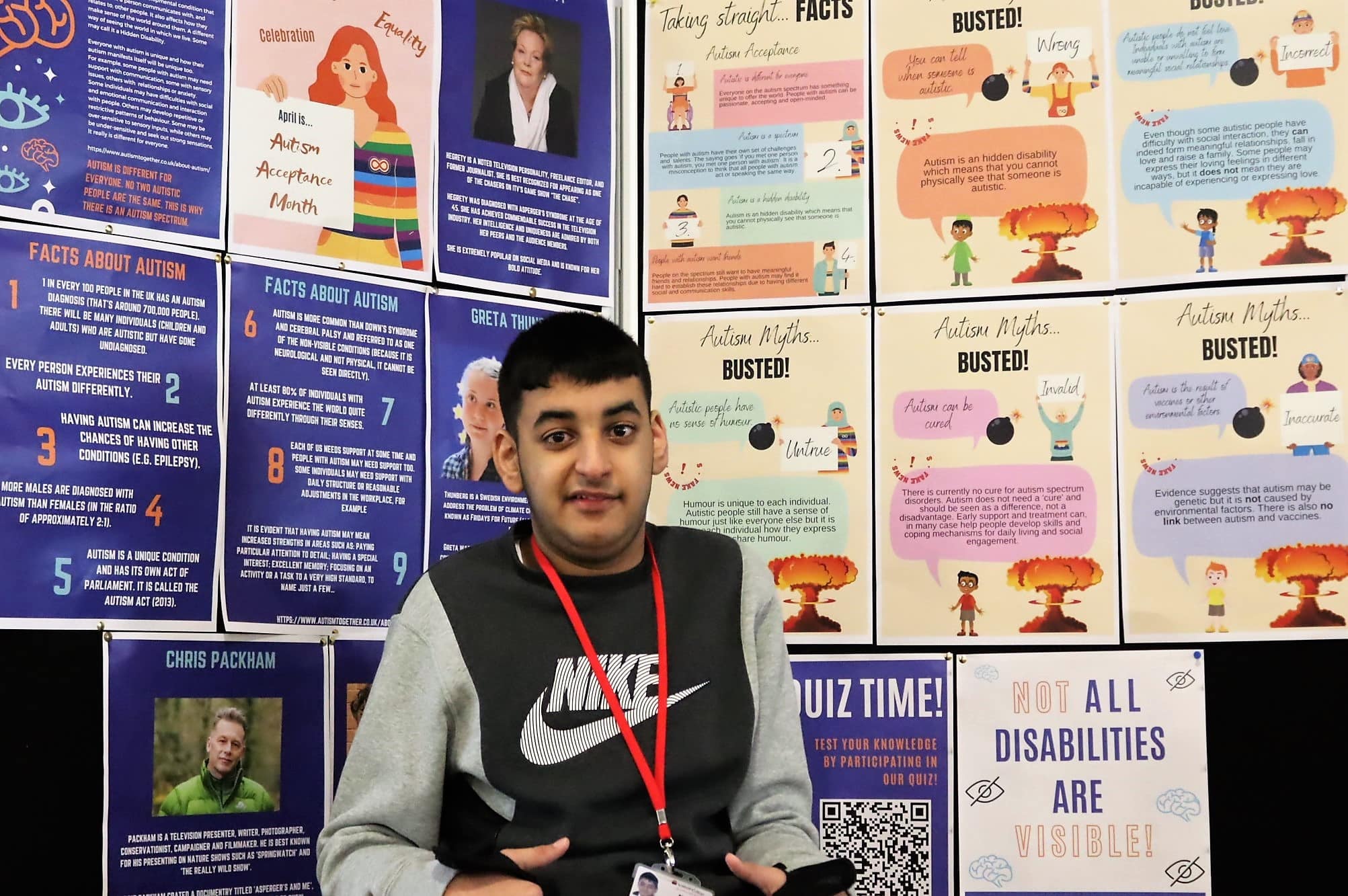 Alongside all this tremendous work, Akram is also completing work experience with the Student Enrichment team where he is producing resources to support his role and the Enrichment team's campaigns and projects. In addition to this, throughout his two years at the College, Akram has regularly attended several Equality & Diversity Steering Group meetings to hear what the Senior Leadership team is doing to improve equality and diversity within the College and make it a more inclusive environment.
Sharing his feelings about his time at the College, Akram says: "The support from my Business tutors and the support staff has been great and I'm so happy to have been able to make a difference to the College society."
Akram has left an indelible mark at the College, and we wish him all the best in his next chapter as a Law student at Aston University.