A former ESOL (English for Speakers of Other Languages) and Business student from Solihull College & University Centre recently returned to the College for a visit whilst on a business trip to exhibit his company at the NEC.
After graduating with a degree in Chemistry from Yildiz Technical University in his native country, Turkey, Hakan Akbal, 43, initially came to study English at the College in 2001 before progressing onto a business course. The College was highly recommended to him by a friend and Hakan says: "It was the best decision of my life, if I was born again, I would make the same decision."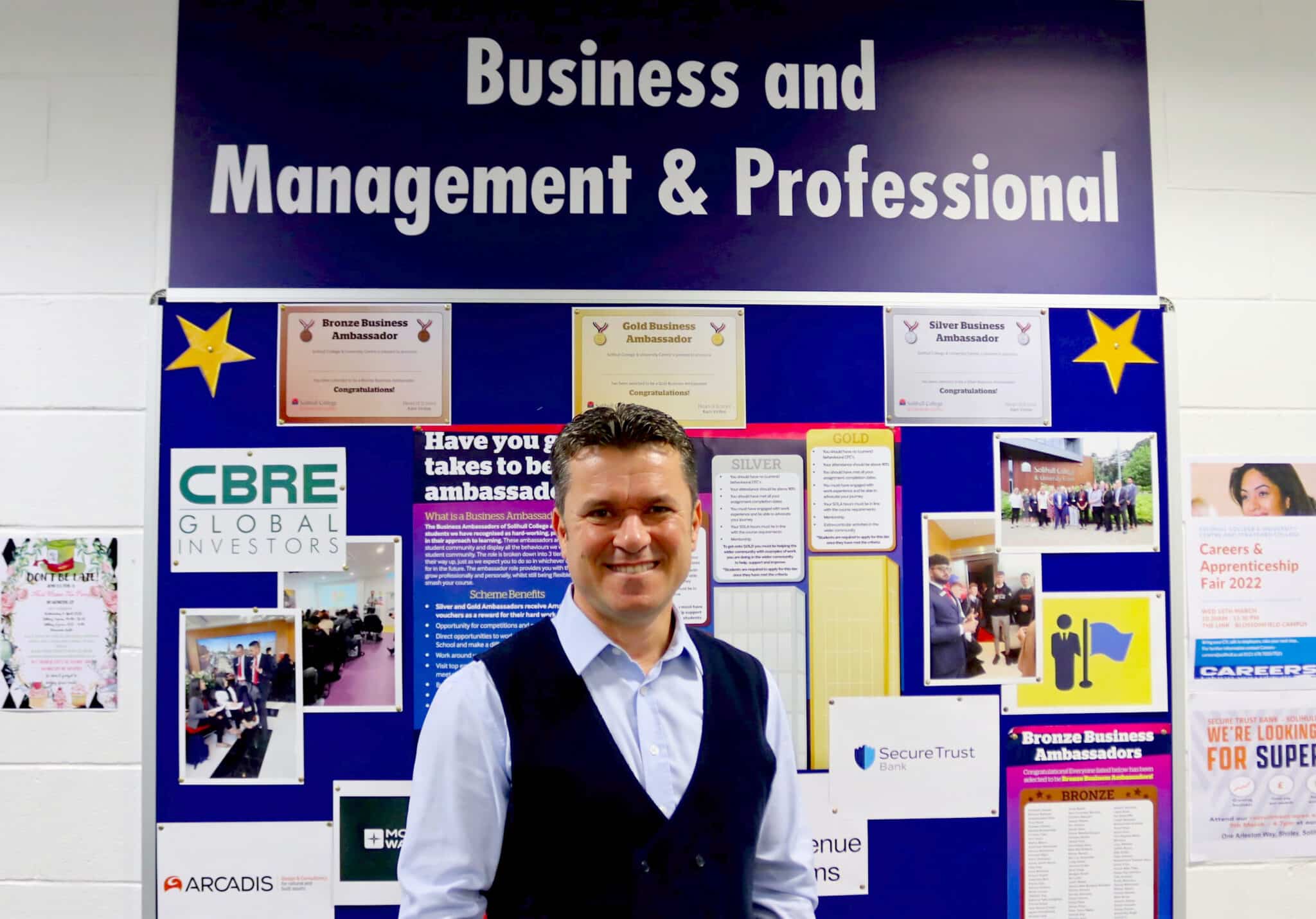 Hakan was given a tour of the College as he shared memories of his time as an ESOL and Business student
After arriving in the UK at midnight on his recent trip, Hakan's first stop the next morning was the College. He shares stories of his four years at the Blossomfield Campus: "The time I spent here prepared me for the world of business and how to live an international life. My peers were not only from the UK but from around the world and I learnt of their customs and etiquettes which went on to benefit me greatly and help me successfully conduct business with international partners."
Hakan describes the College environment as a mixture of cultures and backgrounds, which inspired him to explore the world after completing his course in 2005.
Walking around the campus, pointing out places he hung out with his friends almost two decades ago, Hakan was most enthusiastic about revisiting the library: "We loved the library, it was amazing because we could find anything we wanted here and for that time the IT facilities were revolutionary. After class, we would come here and spend hours researching online – it taught me the philosophy of obtaining information."
Highlights from Hakan's time at the College; his graduation, with his tutor, and with his classmates
When describing his time here, Hakan emphasises the positive impact his teachers and the course structure had on him and his peers. What impacted him most was the teambuilding that took place in class and on trips, he comments: "In lessons, we were constantly working on teamworking activities which makes sense because that is something that as a Businessman you realise is key to success. We would create ads and learn how we can affect our audiences; we were set creative teamwork assignments which encouraged collaboration, we learnt to manage people, and we were taken on many trips which taught us to support and motivate our teammates."
Upon completion of his course in 2005, Hakan took his time to find the ideal job which complemented his knowledge of chemistry and business. Using his time to travel and take a break from studying, in 2006 the perfect opportunity came and Hakan was offered a job with Pulver Powder Coatings, the same company where he has since risen to the top first as Executive Director and now as Head of International Sales. He shares: "This company has taken me all over the world, I started in 2006 responsible for International Sales in Eastern Europe and after 2 years I was asked to set up our first international subsidiary office in Romania. Three years later, I returned to Turkey after being offered another promotion. The company now has offices all over the world and I'm currently preparing teams to send to two more countries to establish the business there."
Teambuilding was one of the key aspects that Hakan took from his time at the College
Before the pandemic, Hakan's work saw him travelling to approximately 20 countries a year, and in total he has visited 40 different countries on business visits during his career so far.
Hakan has maintained contact with several of his college friends, he says: "I'm in touch with many friends and we've had mini reunions too. So many of us went on to successful careers, I was recently talking to one who is now a General Manager at Turkish Airlines in Denmark."
He adds: "There are things you learn in college that you don't take much notice of at the time but use later in life. I'm grateful for all the knowledge I received at the College because it's helped me reach the position I am in now."