We are proud to be a student-focused institution. Solihull College is a modern, responsive and robust organisation and this provides the ideal foundation for us to further develop and excel.
We offer an extensive range of academic and vocational qualifications from entry to degree level, along with support services, to help you achieve your goals. You can find out more about where you will be studying, the awards and accreditations the College has received and future developments.
Resources
Solihull College will make significant contributions to the local and regional economies and beyond, by providing high quality vocational education and training for individuals, employers and the wider community.
Quality And Standards
QAA Quality Code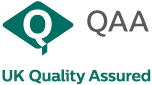 The QAA Quality Code for Higher Education sets out the expectations that all providers of UK higher education are required to meet.
The Quality Code gives all higher education providers a shared starting point for setting, describing and assuring the academic standards of their higher education awards and programmes and the quality of the learning opportunities they provide. We use it to design policies for maintaining academic standards and quality.
The Quality Code has three parts, on academic standards, academic quality and information about higher education provision. Each of these is subdivided into chapters covering specific themes.
Further information is available from the QAA website
www.qaa.ac.uk QAA: Solihull College & University Centre Latest QAA HE Review
External Examiners
External examining provides one of the principal means for maintaining UK threshold academic standards within autonomous higher education institutions. External examining is therefore an integral and essential part of institutional quality assurance. At the College we make scrupulous use of the reports external examiners provide to both assure quality and standards and to help identify opportunities for enhancement.
(Note: external examiner reports are available internally for students on their course moodle page.)
Student Feedback and Enagement
Student Survey Results
The results of internal student surveys are available internally on each of the course's moodle page.
Discover Uni
The Discover Uni website has the published National Student Survey results with details of the HE courses that have sufficient respondents.
Student Engagement
We engage and listen to our higher education students to continually enhance the learner experience. We use a wide range of methods to engage with students and offer a range of opportunities for those who wish to represent the student body on key decision making committees.
Partnerships With Awarding Bodies
Solihull College has a long standing relationship with our university partners. These include – University of Warwick, Oxford Brookes University, Newman University and Coventry University. We also offer Pearson BTEC Higher National programmes and have developed a partnership with the University of Northampton.