Students from Solihull College & University Centre, working with award-winning training provider Digital Innovators, were recently part of the launch of 'The Ideator'.
Digital Innovators work with students across the College to improve employability skills and The Ideator scheme, based at the Innovation Birmingham campus, offers students the unique opportunity to take part in a series of workshops where they were able to network with a wide range of businesses, organisations, and educators.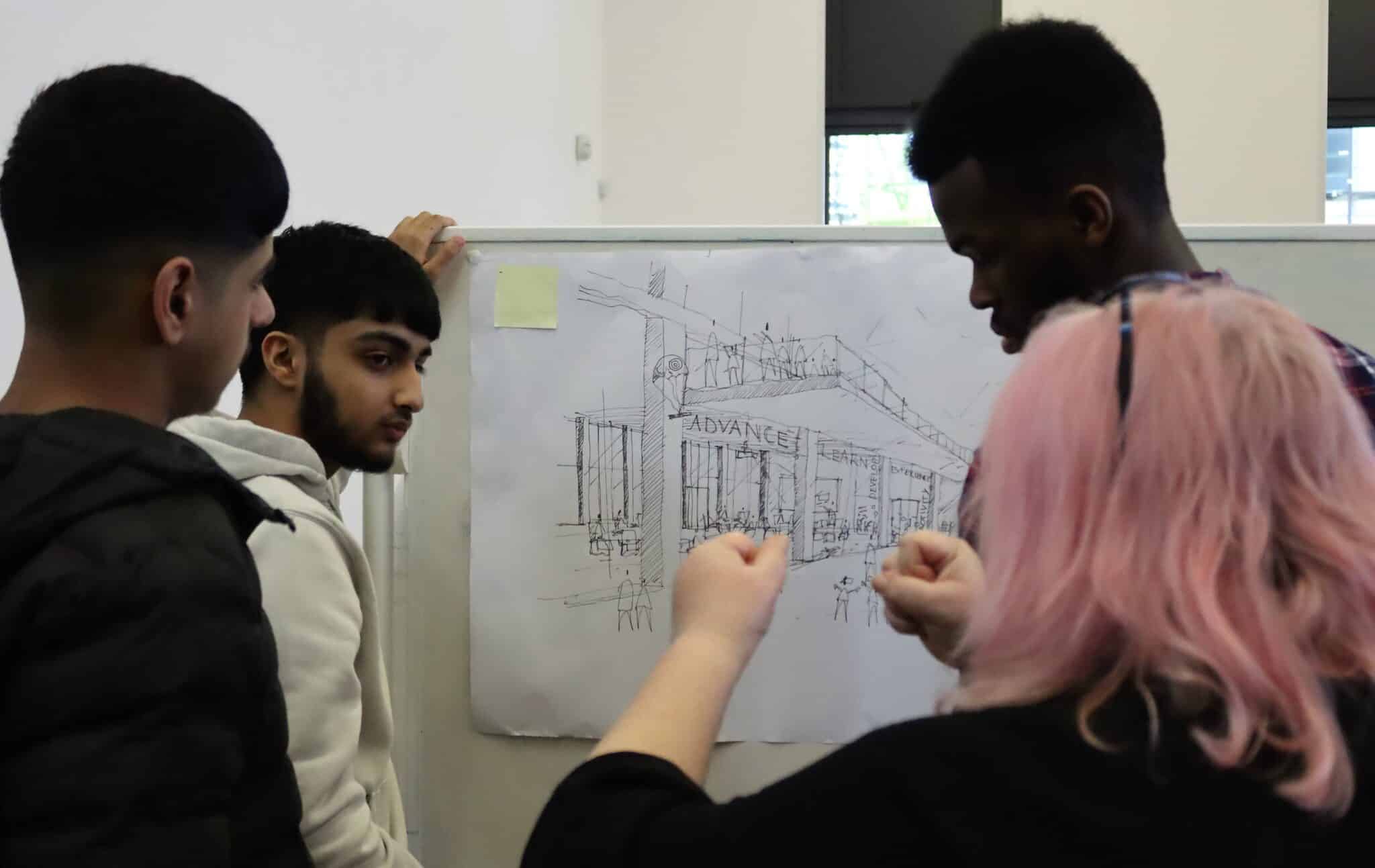 Students worked together on challenges set by local organisations such as RAF Museum
Digital Innovators' ethos of "learning by doing" is further exemplified within the setting of The Ideator where students are assigned projects to develop their skills by companies from the West Midlands area. Students are then given the opportunity to pitch their ideas to employers in a dragon's den-style setting.
Through The Ideator, Digital Innovators aim to:
• Enable young people (aged 16-24) to develop the skills needed to succeed in the workplace and gain experience working in a business environment.
• Facilitate collaboration between young people, industry experts, university researchers and government agencies to develop solutions to the latest industry challenges.
• Create the opportunity for young people to demonstrate skills in front of potential employers, as well as a pipeline to traineeships, apprenticeships, or full-time employment.
• Train participants in the new and in demand technical skills such as 5G, artificial intelligence, cybersecurity and blockchain using platforms provided by world-leading technology companies such as IBM, Microsoft, BT, and Huawei.
• Encourage the development of business ideas after the initial programme and aid young people with the formation of their own start-ups, or continuation of projects developed with our employer partners.
Phil Hyde, Creative Manager and Arts Facilitator at Round Midnight, a Birmingham based educational theatre, was one of the employers collaborating with students. He explained why it was important for him to be involved in a scheme such as The Ideator: "I believe it is important to strengthen our communications with young people so that they feel supported as they make that transition towards adulthood."
The Ideator offers organisations the space to collaborate with dedicated students
Phil believes putting young people at the centre of community building will help make communities a safer place to grow up in: "As adults we find it difficult to see why young people act the way they do. I believe collaboration projects such as this are a great way to break down barriers."
Isa Imran, a computing student on the Digital Production, Design & Development T-Level at the College commented: "I'm being exposed to different businesses and this experience is new to me. It's giving me the confidence to speak to employers and pitch my ideas." Isa was set the task by RAF Museums to make their customer experience more appealing.
Digital Innovators are welcoming employers, community organisations, education providers, or individuals who would like to get involved with The Ideator to get in touch!