Beauty Therapy student, Meggan Venus, 18, completed her week-long work experience at Ragdale Hall Spa.
Meggan had just started her first year on her course when she heard about the work experience opportunities that Ragdale Hall Spa in Melton Mowbray offer to Level 3 students. A representative of Ragdale Hall came to the College and carried out a trade test on seven students. This included an observed manicure and facial. Meggan and a fellow student were accepted.
Meggan stated; "We were shown around the spa. We practised facials and learned about various products. The product line used was Elemis, which we use at college so I felt more comfortable as I was familiar with the materials I was working with".
Meggan worked four-day shifts and one late shift on her placement. She took on various duties such as carrying out treatments on Ragdale Hall employees, organising and arranging the rooms and setting up products herself. "It was great work experience in which I was able to familiarise myself with a working environment, set out my own products, and take on new responsibilities. It built my confidence and skillset and the positive feedback I received was really important in the whole experience" Meggan adds.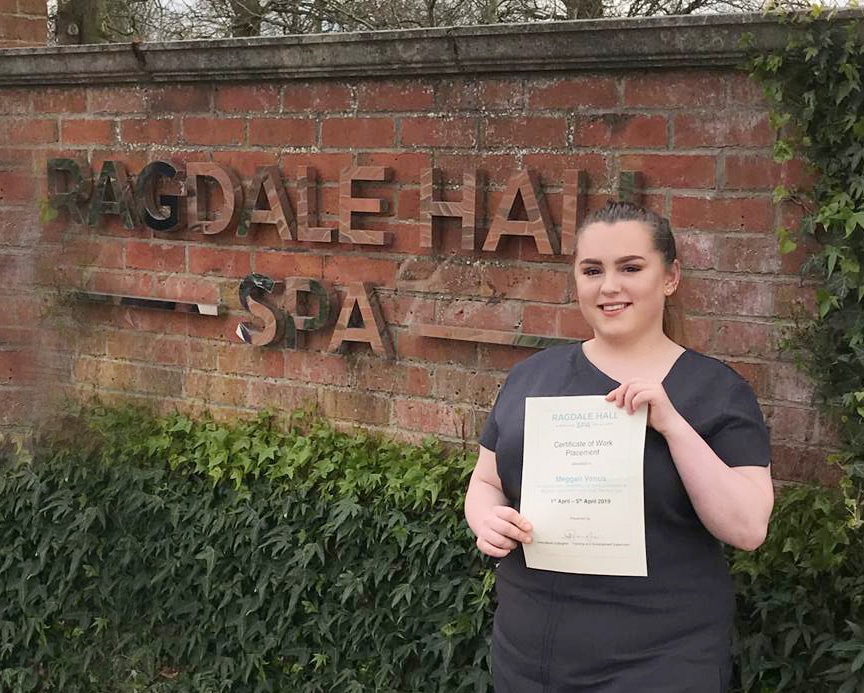 After work experience, students received application forms and were told they could apply to work at the spa full-time if they wished. Meggan, having had such a positive experience, applied immediately and was invited in for a full day interviewing session which consisted of various elements such as a written exam on anatomy and physiology and a practical treatment. Meggan was offered the position of Spa Therapist immediately.
Meggan will be living in Melton Mowbray in accommodation organised by Ragdale Hall Spa for 6 months when she begins her role. She will undertake five days of training after which she will begin to carry out treatments on clients.
Meggan completed her time as a Beauty Therapy Level 3 student and is excited about the wonderful opportunities that lie ahead with her new job as Spa Therapist.