A former Health & Social Care student from Solihull College & University Centre has risen to the challenge of being thrust straight from university into a front-line health career at the start of the Covid-19 pandemic.
Abbie O'Loughlin, 23, came to the College after finishing school in 2014 to study on a vocational BTEC course as she felt it offered a greater insight into her area of interest in comparison to A-Level courses offered elsewhere. During her time on the course, Abbie gained knowledge on a wide variety of topics that stood her in good stead when studying at university and progressing in her career.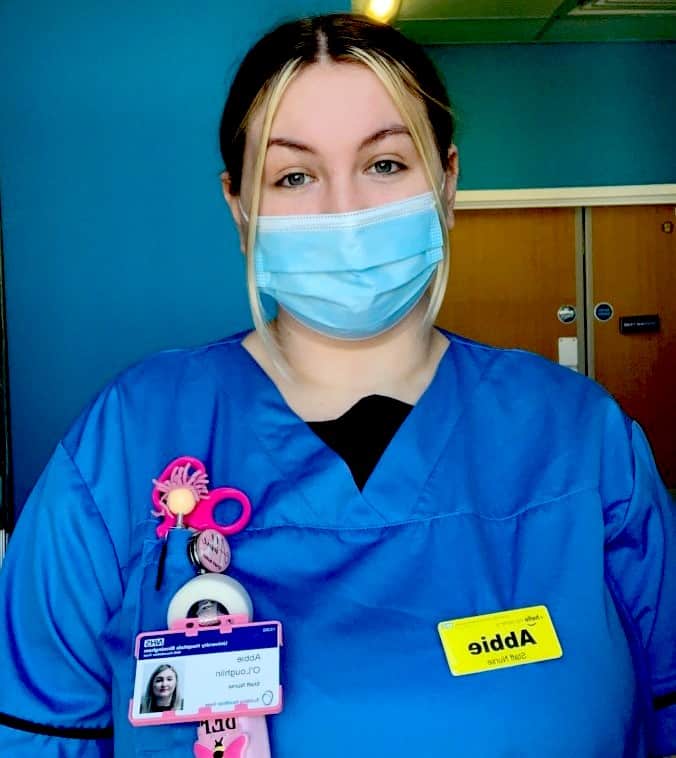 Abbie worked in Covid wards during the pandemic at the Queen Elizabeth Hospital Birmingham
Abbie comments: "I loved my course and made friends for life. People tend to say that school is the best time of your life but for me, it was definitely college."
After completing her course, Abbie went on to study Adult Nursing at Birmingham City University where she specialised in Burns and Plastic Surgery. Soon after graduating, Abbie started working for Queen Elizabeth Hospital Birmingham (the QE) in October 2019, five months prior to the first Covid-19 Lockdown.
It was a tough introduction to working life for Abbie. She comments: "It was surreal, and I think it's hard for some people to imagine the realities of what was happening in hospitals at that time. The ward I was working at had closed in March 2020 and I was moved to Covid wards. For about a year, I would come in every day and was assigned a different ward, most of the time it was the Covid respiratory ward. At the start of the second Covid wave in January 2021, I worked in ITU [Intensive Therapy Unit] ward for 2 months. We all took on this duty and got on with it. I went from seeing 4 people pass away during my entire training to seeing 4 people pass away in a single day. There was one day when I witnessed 3 people die in the space of 4 hours. I had to grow up fast. What I took away from this experience was how important it is to take care of each other."
Abbie currently works in ENT Maxillofacial and Plastic Surgery wards at the hospital
After other wards opened again, Abbie was able to focus on her specialist area and now works primarily in ENT Maxillofacial and Plastic Surgery wards.
Working immensely hard with long shifts, the role is very different to your standard 9-to-5. What motivates Abbie? She explains: "Nobody comes into this field for the money or prestige, we do it for our patients, our care for them pushes us. I grew up in a very nurturing and caring environment and it's what inspired me to become a nurse. It's a rewarding career."
Abbie encourages Health & Social Care students to enter the nursing field and looks forward to visiting the College and sharing the many opportunities available at the QE.
The College is grateful for the sacrifices Abbie made to keep us all safe during the Covid-19 pandemic and is proud of her success.