Solihull College & University Centre's Health & Social Care department enriched students' learning recently with a packed week of activities and motivational talks as part of their Practical Skills Week.
Students spent the week practicing a variety of skills such as First Aid and Patient Observation. The week allowed students to immerse themselves in everything they have learned so far on the course in an experimental environment with the support of tutors.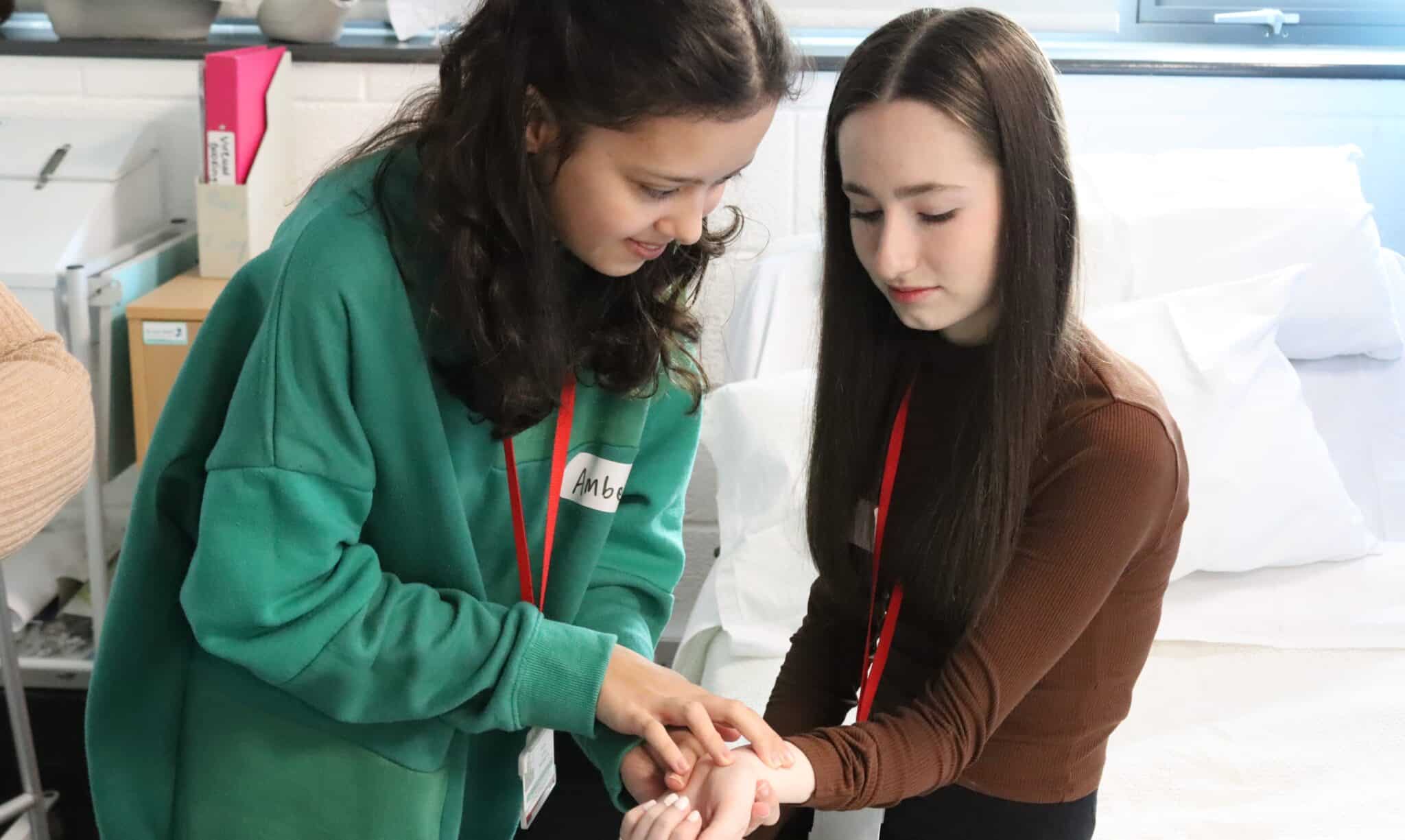 Health & Social Care students practiced the skills they have developed on the course
Placement Co-ordinator for Care and Education, Shamira Bolia, who organised the impactful week comments: "We are committed to enhancing our students' learning and the development of their skills. Our aim is to always find innovative and engaging methods with which we can empower students and constantly provide them with the chance to apply the skills they have developed."
The College's facilities include an impressive Health & Care Skills Suite which offers a clinical environment with hi-tech medical simulation mannequins, allowing learners to practice procedures.
Students had the opportunity to find out more about the careers in which they could progress by listening to speakers with a range of experience. One of the speakers was former student and now Adult Nurse in Cardiology, Bethany Higgins, who shared her journey from the College to the NHS: "I've developed an array of skills throughout my career from the exposure to a variety of fields when I was on placement whilst at the College, to developing life skills at university, and then my development thus far in Nursing from medicine management to coordinating a ward."
Students also heard from speakers from Midland Care UK, a domiciliary care agency, Solihull Council Occupational Therapy Team, who held an open discussion about career routes, and Alka Sahnan, from Prince of Wales Care Home.
Employers from a wide range of Health & Social Care professions delivered presentations to students
Criddy Howarth from Childcare and Education Recruitment Specialists, Ambassadors Resourcing, shared the benefits of joining an agency and guided students on how to build up experience and create a network of connections.
The Health & Social Care department are looking forward to inviting more alumni and professionals to come and share their insights with students and support them in mapping out their career paths.
The Practical Skills Week concluded with the Professionals Conference in which students received certificates for their participation.