Written by the Student Executive's Digital & Communications Officer, Emma Stewart
Student Executives and Representatives at Solihull College & University Centre discussed their aims for the year with members of the College's management and senior leadership team at the annual Student Leaders Conference recently.
The event started with a moving speech from Student Voice President, Sasha Georgieva, who shared her story of moving to the UK as a high school student and how she found her voice at the College through her involvement with the Student Enrichment team.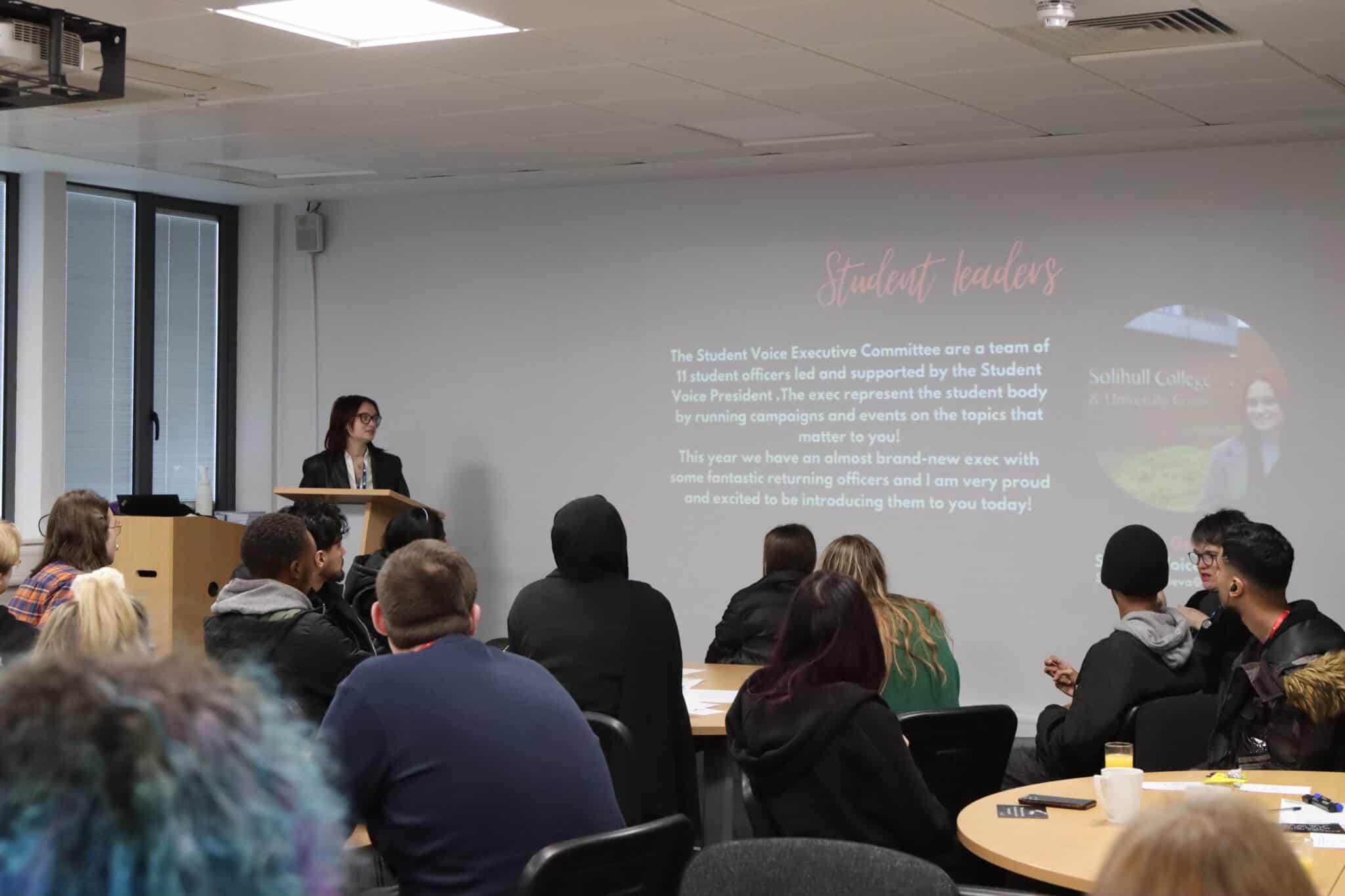 The conference was an excellent opportunity for students to map our their vision for the College
Student EDI & Enrichment Coordinator, Grace Wynne Willson, says: "It was so great to have the student conference finally in person for the first time since the COVID pandemic. It was a wonderful opportunity for representatives from across the three college campuses to meet each other, build strong connections and share ideas. I was particularly impressed with Sasha's inspiring presentation in which she talked about her journey."
Throughout the day, students explored and learnt more about current projects taking place at the College in sustainability, learning technology, student leadership and more.
Megan Briggs, Project Coordinator at Leaders Unlocked, delivered a workshop on racial justice as part of an ongoing project which the College is currently involved in.
Digital & Communications Officer, Tilly Murray comments: "I think that the conference was very interesting while also staying engaging. I enjoyed how I was able to get to know the other execs and reps."
The students engaged in important discussions relating to sustainability, anti-racism and more
Sitting alongside students and taking an active role in these important discussions were members of the College's Executive Management Team, offering both parties the chance to hear from each other and learn how best to work together and bring effective change to the College.
Head of Sustainability, Olly Schofield, delivered a presentation setting out the changes the College is set to make to support sustainability and become Carbon Net Zero by 2030. Sustainability officer, Ali Martin says: "The conference was very insightful, and it was interesting to gather the thoughts and opinions of my peers, which will help inform my own ideas for future campaigns."